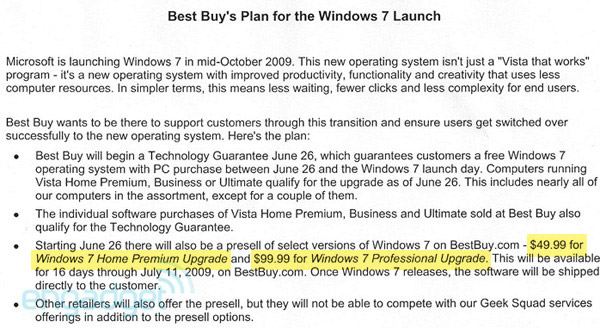 Moments ago, Engadget reported on a leaked memo from Best Buy which details the retailer's early plans for the recently announced launch of Windows 7. Whilst their article falls into somewhat of a misled Vista-bashing rabbit hole, their readers even point out the juicer part of the scoop, the first indications of how much Windows 7 is going to cost.
Assuming the memo is legitimate and accurate, Best Buy will allow customers to preorder Windows 7 Home Premium Upgrade for $49.99 and Windows 7 Professional Upgrade for $99.99 from end of June.
If these prices are recommended retail prices, and not a special Best Buy discount offer (the 16 days might suggest otherwise), then what it could mean is Microsoft will be taking quite an aggressive Windows 7 pricing strategy. The original retail price of Vista Home Premium Upgrade was $129.95 and Vista Business Upgrade (nearest equivalent of Professional) was $199.95, ~60% and 50% cheaper respectively.
Having said, even if this was a Best Buy promotional offer, I can't imagine them bearing a loss on each sale so retail prices should still be cheaper than Vista.
If we take these comparisons between upgrade versions and impose them onto full editions, then Windows 7 Home Premium could cost ~$99.99 (Vista $269.99), and Windows 7 Professional $149 (Vista $299). If these predictions are true, then Windows 7 could be quite the offer. If not, then you know where to order from to get the best deals on 7. 🙂
Update: As commenter "Andre Da Costa" pointed out, a similar if not exactly the same deal was also offered for the introduction of Windows Vista which could indicate this be an time-limited offer and will not reflect the retail price of Windows 7.