Over the past 24 hours, the #fixoutlook campaign has taken the Twitterverse by storm and it appears to me that most people's reactions are one of two extremes – blindingly pledging their support or ignoring it entirely. Either way, I would like to add some perspective on the issue and help bring the two extremes closer. That is, if you believed the world was about to end, I'll try to convince you why it won't. On the other hand, if you didn't care about the issue at all, why it should warrant some of your attention. Or at least I can try.
First off, if you don't touch Outlook and use Gmail exclusively like myself, then we should be more ashamed of Google than we are upset at Microsoft. As it turns out, Google's Gmail is a worse offender in email rendering than Microsoft's Outlook. As far as I can recall, there isn't a #fixgmail petition, but as you'll see below, maybe there should be.
Using the "email acid test" produced by the Email Standards Project which in my professional web development opinion is a basic, fair and practical test of HTML rendering capabilities for email clients, Gmail's test result makes it the second worst contender in a range of popular modern clients. Outlook 2007 in comparison (and Outlook 2010) is certainly a step in the right direction.
Update: User "Allen Huang" posted a comment noting that Gmail must have since updated their web client to render the HTML test more successfully, if not perfectly. The 2007 screenshot from the Email Standards Project is out of date and is no longer applicable. The Email Standards Project has emailed me indicating that their Acid test had been incorrectly sending out test emails with the CSS styles attached inline, which allowed Gmail to pass, however this is the incorrect behavior and has since been fixed. Gmail remains a poor contender in the email Acid test.

Speaking of a step in the right direction, Microsoft as a company is actually no stranger to "email standards" in their products. Their free desktop email clients, Windows Mail and its successor Windows Live Mail, are actually two very capable clients in the email test only to be slightly affected by a bug in the Trident rendering engine. Windows Live Hotmail falls a little short behind on the web client front.
Of course, you might argue Windows and the Windows Live team are separate entities at Microsoft and they have different needs and requirements when designing an email client than the Office team, but that's where it gets stranger.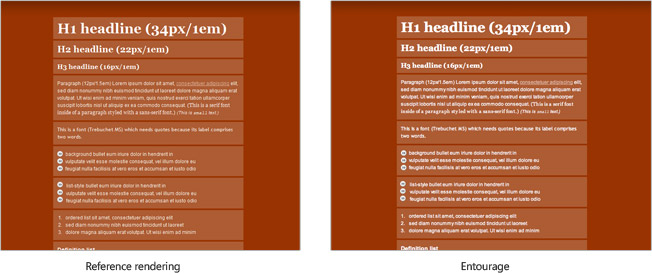 What I find weird in particular is that even the Office team itself is no stranger to "email standards", and I'm not talking about Outlook 2000 either which has been claimed to do a better job than Outlook 2007. Entourage, which is the Outlook equivalent (although some Mac users might argue its equivalence) in Office for Mac has excellent support for HTML email rendering and passes the test with flying colors.
Now on the other side of the spectrum, an argument that's come up often is that why we need to bother with HTML rendering in email clients at all? One could of course respond by asking a counter-question "why do we need to continuously improve technology", but I won't. Whilst HTML emails today might be quite redundant and flashy for no good reason, that shouldn't be the reason we should hold back either. The web has evolved and is continuously evolving from simple standards, email should evolve with it to make it more compelling and enable more scenarios that similarly you couldn't imagine the web could do years ago.
Finally, a lot of people seems to be misled by exactly what is being asked of the Outlook team, and their response today seems to indicate they might be too. It is not demanded that Outlook 2010 use a different rendering engine such as Internet Explorer's Trident.
Using the Word engine to create and display emails is perfectly legitimate since Word allows easy creation of some very compelling graphics to communicate information. In fact, the output of graphics such as SmartArt and charts in Outlook are actually rastered as bitmaps and the output is formatted using no other than the subject under the spotlight, HTML email, making it very much so compatible with the email ecosystem.
All it is asked of Office is to improve its HTML rendering support in Word, which already exists at a below-par level today, to include support for some of the more basic and fundamental HTML elements and CSS styles that would be key to the forward progression of email.