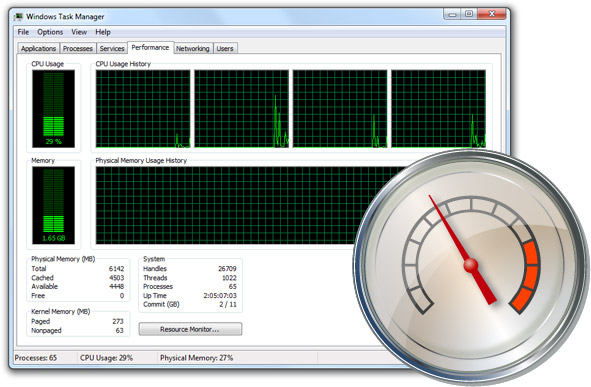 Several days ago, some Windows 7 users made an interesting observation that the Windows 7 disk checking utility consumes a large amount of memory in a very short time. This story has since gained momentum in the blogosphere under the snowball effect leading to the sensationalist belief this was a "showstopper" bug for Microsoft.
Whilst I agree there is some merit to debate the technical aspects of this phenomenon – why this process functioned properly in previous versions of Windows without much RAM, at the same time I'm surprised at just how many users still in this day and age are superfluously concerned about resource utilization, which I'm coining "resource-spotting" – a nod to trainspotting. To put that in context, if you ran this tool without the Task Manager side-by-side, would you be none the wiser?
Time and time again, I come across people who watch their Task Manager window like if it's the Olympics 100m sprint. The same people who probably also have the "CPU Meter" gadget on their desktop. I admit there was a time when it might have been useful to minimize the "baseload" of CPU and RAM utilization to maximize performance, but with the prevalence exponentially more powerful hardware and more preemptive resource optimizations, it's just no longer practical or relevant.
Take for example Windows Vista and Windows 7. These are modern operating systems with a number of background services that aim to optimize performance by identifying and precaching resources you may need to use before you use them. For this reason, around 70% of your RAM when idling (in my case 4GB out of 6GB) is actually utilized for caching. Of course when other applications need RAM, the cache is automatically reduced to accommodate other processes.
Another common example I see often these days is people complaining about Firefox's memory footprint, or any next-generation browser for that matter. As a fulltime Firefox user, I confess Firefox is my most memory-consuming process for the most of my day, but I'm not at all concerned about this and why should I? If I can keep open dozens of tabs open which are all equally responsive to switch between and AJAX-heavy webpages load and perform extremely well, why should I use a slower but less memory-intensive browser if I have the memory to spare?
To me, what's more disappointing about resource utilization is under-utilization. If I have the resources to spare, at any point in time where performance can be improved by utilizing more resources but isn't, that's a much worse deficiency of modern computing than a large number in a table of numbers.