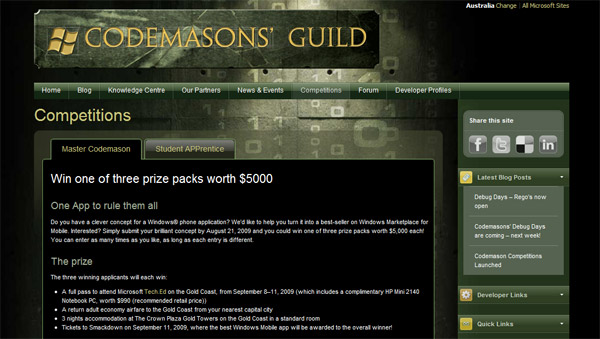 It would appear that a conference sells out pretty fast when a free netbook with Windows 7 is up for grabs, as Microsoft TechEd Australia helped demonstrate over the past couple of weeks. If you've missed out however, there is another way to get in. Free as a matter of fact, and the odds are pretty good!
The Codemasons' Guild, a fancy (but admittedly shorter) name for the Microsoft Australia Windows Mobile developers club, is hosting two separate competitions that gives three (3) Australian developers and two (2) Australian higher-education students an all-expense paid trip to TechEd plus extras.
The competitions wittingly named "Master Codemason" and "Student APPrentice" asks developers and students respectively to come up with an interesting Windows Mobile application idea that fits one of twelve broad categories. Although one could argue fart-noise applications falls into either "entertainment" or "health", I'd personally advise against them.
Whilst the site is a little contradictory in its terminology, it's my understanding that besides a brief text description of the application, you will also need to submit some functional code and screenshots/videos of the application running on device or emulator. It doesn't have to be perfect however as part of the prize is some technical mentoring to ready the application to market, but don't leave it at "Hello World" either.
The competition closes August 17 for students and August 21 for developers so you better get your thinking caps on. You can find more details including but not limited to the enthralling terms and conditions of the competition at the official website.