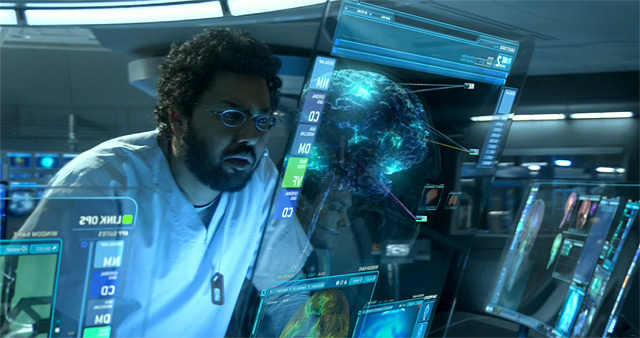 By now, I hope most of you have seen James Cameron's Avatar movie. And if you've seen it in 3D – the way it has to be seen – then you might have a pretty good idea of what a stereoscopic 3D user-interface looks like and would agree with me when I say it will be the next evolution of graphical user interfaces.
If for some reason you haven't seen Avatar and will not in the near future, then no two-dimensional image (like the one above) will do the technology justice. As much as it has to be seen to be believed, it is essentially the effect of adding three-dimensional depth to the user interface. Bear in mind this is far and beyond the simulated z-index imitation of overlapping windows we've lived with since the early 80s, or even the so-called 3D compositors such as Compiz, but instead, the real thing.
One of the best and at the same time simplest examples of this demonstrated in the movie is when the character Jake Sully was recording a video journal on a computer. Although in retrospect it's almost trivial that the recorder software UI "floats" in-front of the video, the end result is that not only the UI separated from the content by depth but it also made it possible for the eye to focus on different "depths" of the UI. This means users would not be distracted by different UI elements not because they're hidden but because they're out of focus.
Granted it's already possible to display stereoscopic images on computer displays, no operating system I'm aware of supports it natively and takes advantage of it in its own UI subsystem. However with the advancements of autostereoscopic displays – monitors that can display stereoscopic 3D without the use of special glasses – maybe they should and maybe Microsoft already had a head start.
Speaking at Microsoft's Advance 08 event last year, James Cameron said,
"… I like to tug on the hem of Microsoft and remind them that they need to be thinking about some future version of Windows that ships fully stereo-enabled that goes in concert with these devices, and that they should be talking to their various partner, and so on, technology partners, about this, and I think it's going to happen."
Let's hope Microsoft took his advice.