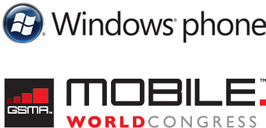 During Microsoft's PDC09 developer event in November last year, it was revealed (to the disappointment of many) that Windows Mobile 7 would only be discussed half-a-year-later at Microsoft MIX10 in March. However as of today it's pretty much certain we'll get to see this make-or-break mobile OS first, a month-ahead of MIX10, at the Mobile World Congress in Barcelona during February 15-18.
In an invitation from Microsoft I received today for Mobile World Congress, teased
Microsoft will be making several exciting announcements during the show. You will learn:

How the company plans to align its consumer vision and grow opportunities for the mobile industry as a whole.
How it will tackle challenging times ahead, in the face of economic uncertainty and stiffening competition.
If that doesn't sound like Windows Mobile 7, then I don't know what does. Although it should be noted the event's current keynote lineup does not mention any representation from Microsoft, but I've also been told that will change in the weeks to follow.
Even if in the minds of many – including myself as WM user – hope for the future success of this platform withers down by the day, there is still a chance Microsoft can come out guns blazing. After all, you only have to look at the history of the XBOX to realize how Microsoft's Entertainment & Devices division can take an underdog to the top of the hill.
Disclosure: I'll be attending Mobile World Congress 2010 as a guest of Microsoft Australia.