Late last year, Microsoft quietly announced a new server operating system called "Windows MultiPoint Server 2010" aimed at the educations market based on the Microsoft Research project MultiMouse. As it nears its release, the more I look at this product the more I see this as a potential multiseat computing solution even for the home.
[flv:multipoint.f4v 600 342]
Unix enthusiasts might be quick to point out this type of computing actually originated on Unix long ago, it hasn't reached the mainstream, yet, it solves a very common computing problem in the home environment – a limited number of computers and everyone who wants to use it at the same time.
Granted the average cost of home PCs have been steadily declining in the past decade, the hidden cost of maintaining, running and eventually renewing a PC for every home user is an unnecessary burden for what might only be light web browsing and emails.
Whilst thin-client solutions has worked well for the enterprise, the complexity doesn't really make sense for a home. Furthermore, unless CPUs, memory and motherboards becomes free, then no thin-client can ever match multiseat computing by cost.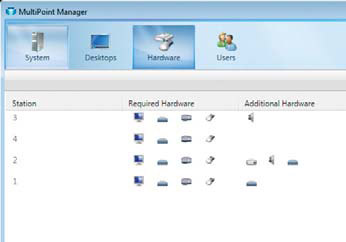 Compared to existing third-party Windows multiseat solutions out there, Windows MultiPoint Server is a far more elegant and transparent solution. From what I can gather it is no more complicated to set up than any OEM Windows PC. Thereon, each "access point" can be added for just the price of an additional monitor, keyboard, mouse (and user license) and the computing experience would be no worse than what they can experience on a standalone PC if not better with bonus capabilities such as being able to "migrate" between different access points with their user state preserved.
Although Microsoft is not intending to release this particular OS to the general OEM market, I wouldn't be surprised if it will be easily obtainable via software resellers in the future. If that's the case, I'd love to see someone deploy this in the home as a test case.
Finally, I must point out even though this product is currently limited in some ways by the maximum length of monitor cables, wireless technology for the mouse and keyboard is already here and it's not any stretch of the imagination wireless display transceivers are coming soon, in which case, imagine just having to deploy a single Windows MultiPoint Server for an entire household.
Update: Martin in the comments saw a demonstration of the Windows MultiPoint Server 2010 at the BETT conference first-hand. He says,
They had one PC running Windows 7 (Aero Graphics), Video Streaming, Office, Movie Maker. And shared between 5 clients. with NO performance loss.