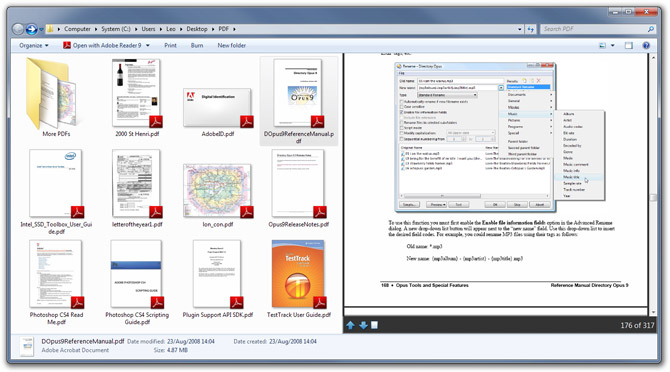 When faced with a buggy piece of software, most users probably work-around the problems in silence, others might voice the issue at the developers, but there's also a growing minority who whip out their development tools and attempt to fix it themselves.
In the case of the broken Adobe Reader 9.0 PDF preview and thumbnail handler on 64-bits versions of Windows 7 and Windows Vista, Leo Davidson did just that.
For the past two years, Adobe has neglected a simple issue with Adobe Reader that broke the default and extremely useful file thumbnail and file preview features in Vista and 7 under 64-bit. The problem also extends onto other applications that use the preview APIs such as Office Outlook, throwing out the window what would have been an elegant and streamlined PDF viewing experience, especially since you can scroll within the PDF without awakening the beast that is Adobe Reader.
After some detective work by Leo, not only did he pinpoint the root cause of both the preview and thumbnail issues, but today released a dead-simple fix in a neat executable package that fixes both problems faster than you can say "what the hell Adobe".