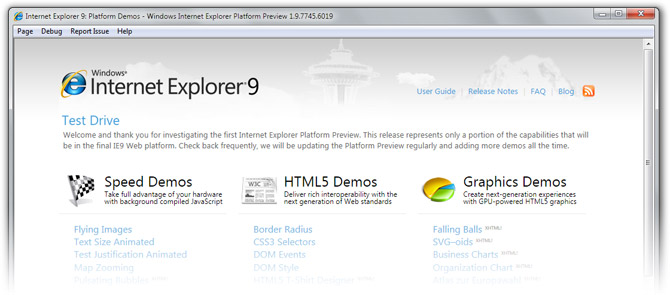 About six months ago at Microsoft PDC09, Dean Hachamovitch revealed Internet Explorer 9 for the first time and teased a relatively new browser rendering technique based on Direct2D, at the time. Barely weeks after, Mozilla also showed off their implementation of Direct2D rendering in a nightly build of Firefox.
Now at MIX10 Microsoft once again showed off a bunch of groundbreaking new (performance) features but I'm now skeptical second time coming if they'll be as innovative when it eventually ships. Remember, even Internet Explorer 8 took the lead in terms of performance, when it was announced too.
In a press briefing I asked Dean if they fear the new features they showed off today could be implemented by other browsers that ship sooner, he responded "the Windows API is very rich" and he supports other applications who take advantage of them.
Of course this shouldn't take away the fact that when Internet Explorer 9 will be great for end-users and the web as a whole when it finally ships, but by that time, it might be back right where it started – catching up to what is easily the fastest evolving industry in the world with an update cycle that doesn't match.