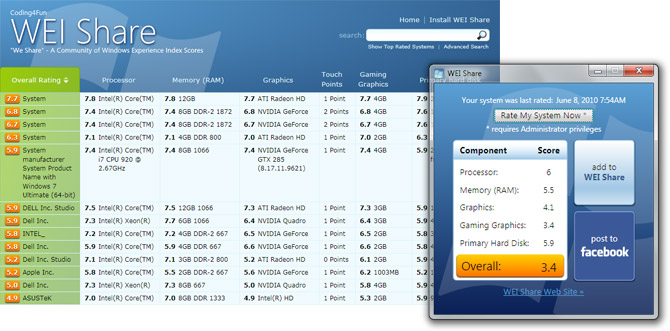 Now there's an easier way to share and compare your PC performance rating with a slick new web service called WEI Share taking advantage of the native Windows System Assessment Tool (WinSAT) and the Windows Experience Index (WEI) on Windows Vista and Windows 7.
WEI Share is a Coding4Fun project developed by Larry Larsen from Microsoft's evangelist group built on top of Windows Azure. It allows users to submit their WEI score and associated system information using a WPF desktop application to the database where others can search or browse through all the submissions from various hardware combination using a Silverlight application. In addition, users can also opt to post their scores to Facebook for extra geek cred.
Of course, the WEI is not a replacement for 3DMark and it wasn't designed to be either, but it does provide a good rough guide on the general performance of a PC and WEI Share makes the process of comparing scores much easier. WEI Share isn't the first site to do this, but it's the most elegant so far.
The project will be open sourced on CodePlex in the near future.