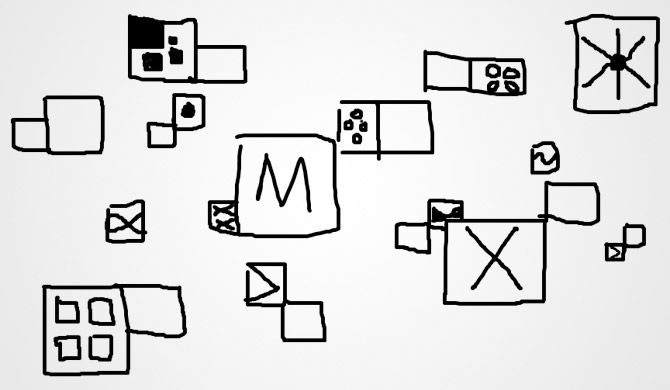 Update 2: The original image has been removed by request. I've replaced it with an artist's sketch, or an attempt at a sketch, for the record.
A set of string-themed logos for Microsoft's many brands teased at the Microsoft Global Exchange (MGX) event today might actually be one of many concepts the company has considered as part of an exercise to at least think about how they can refresh their image.
Over a week ago I noticed a vifro dubbed the "Microsoft rebrand intro". The animation which lasts no longer than 12 seconds shows off a set of various Microsoft logos with a consistent glossed square shape.
When I first saw this I didn't know what to make of it. I had a hunch this wasn't "it", but at the same time I didn't doubt its authenticity. Now that an alternate version has been revealed, I can safely assume these are all submissions made by various creative agencies Microsoft might have contacted for a rebranding proposal.
Even though Engadget reports Microsoft is not actually committed to the design shown at MGX, you only need to look at all the Microsoft logos on one page to realize why a consistent new look might be a worthwhile investment.
Update: the video has since been removed.