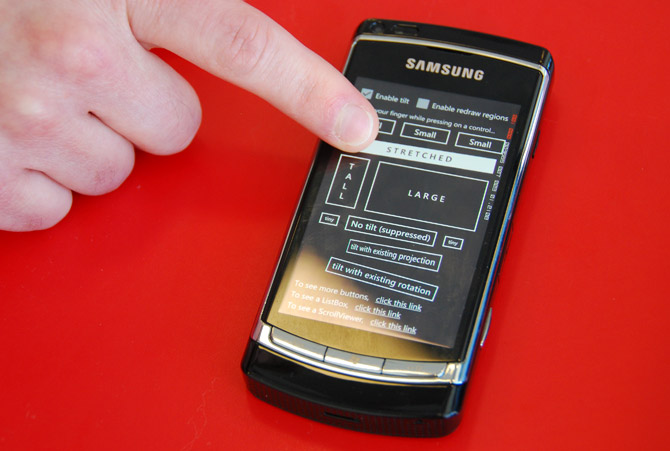 At TechEd Australia this week, Microsoft's Peter Torr suggested that the Windows Phone team will ship more sample code after the final release of the Windows Phone 7 SDK to close the last few inches between first-party and third-party applications.
Unlike the panoramic and pivot controls which are coming to complete the core SDK, an example of the extra code Microsoft will be publishing is the tilt effect. Today, this effect are exclusive to Microsoft's own Start tiles and application controls which all have a subtle but delightful distortion when pressed, as if they were floating in 3D space.
Some third parties have since tried to emulate the effect with their own implementation with results that are similar but not quite the same – an issue that would have only caused frustration over time considering the emphasis on consistency in the platform. More recently, Peter has published some code on his blog that third parties can easily utilize to achieve a consistent results (using the official algorithms) in their own applications.
Code samples like the tilt plus others including but not limited to the "swoosh" animation (ex. in the mail app) will be making their way to MSDN to form the official documentation for third party developers to implement, if they wish.
In the same spirit of helping developers, it's also highly likely Microsoft will be publishing the complete source code for some of their out-of-box applications (ex. Weather, Stocks, Shopping List) so that third parties can understand how applications are "intended" to be built. Very helpful indeed.