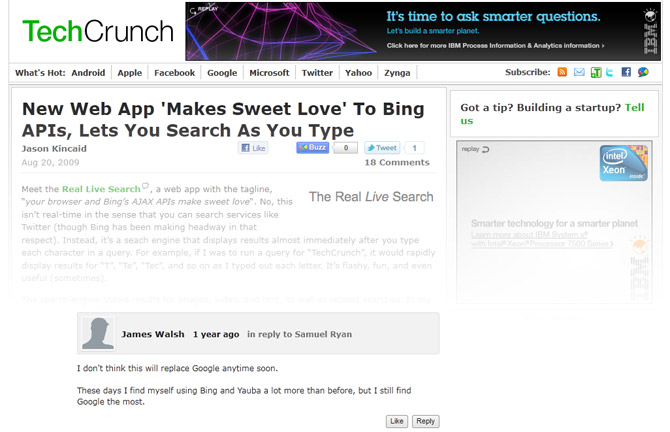 For nostalgic reasons, I decided to revisit TechCrunch's article on my Real Live Search experiment more than a year ago. One comment in particular amused me with what is possibly the very definition of irony in retrospect.
In all seriousness, someone today raised a very good question, why didn't Bing implement this much earlier when it was clearly demonstrated how even their public developer APIs could have quite easily supported the functionality and load. In fact the only missing component was some Javascript which took all of a night for me to implement a prototype.
Unfortunately for Bing, I think this was a missed opportunity that will now only end up with them being labelled "copy cats" when it does eventually ship.
Update: Christo27 in the comments below shared this video of a Bing session at the Apple WWDC 2010 event earlier this year. Apparently they showed off a demo of a prototype HTML5 version of Bing that has some interesting functionality including but limited to a quasi-instant version of the search results page.
It looks pretty sweet and maybe this is why Bing has been holding off any updates. After all, Internet Explorer 9 will ship with HTML5 support.