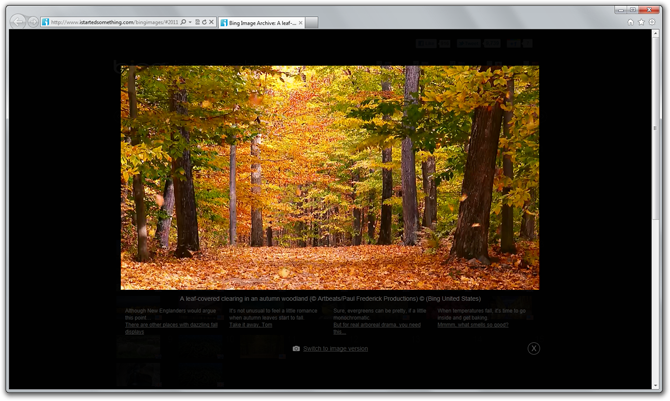 Due to popular demand from no less than three people (including myself), I've spent a better part of the night adding video support to my (actually) popular Bing Image Archive and now it's available for your viewing pleasure.
As some people might have saw, a couple of weeks ago Bing announced they will be sprinkling some HTML5 videos to their daily cycle of picturesque background images. Since, there's been a total of 3 such video loops including one of autumn leaves today.
In case you missed the previous ones, you can now see the Milky Way video and Autumn in Grand Teton National Park video.
Making browsers play video turned out to be a lot harder than expected. Besides obvious format incompatibilities, it's frustrating Internet Explorer 9, Firefox and Chrome all exhibit unique quirks when handling HTML5 video. It's no wonder why the HTML5 version of Bing has been delayed time and time again.