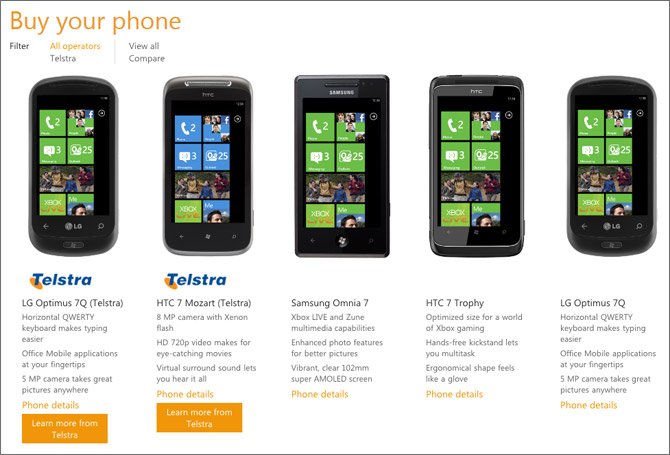 The localized Australian version of the Windows Phone 7 portal has just been updated with the range of phones that will be officially available in the Australian market.
Those exclusive to Telstra include the LG Optimus 7Q, HTC 7 Mozart. Others include the Samsung Omnia 7 and HTC 7 Trophy, presumably available via other carriers and retailers. Features and specifications are available for comparison on the website.
Although the selection might seem limited with just four of the nine WP7 devices revealed at the official launch in NYC, it's a great start considering many of them are not exclusive to just one carrier unlike the US market. Having said that, the much-anticipated HTC HD7 seems to be giving down under a miss. HD7 might still be coming?
Expect more information about Windows Phone 7 specific to the Australian market at the Microsoft/Telstra press conference later today.
Update: Thanks to a heads up from commenter "Mackenzie Price", HTC's official press release suggests the HD7 is still coming to Australia as a Telstra exclusive, contrary to both Microsoft's website and press release.