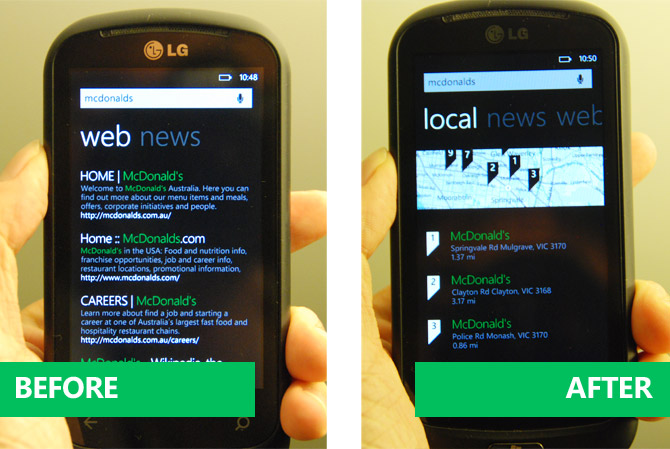 Early adopters of Windows Phone 7 users in Australia might have noticed a lack of local results in both the Bing search application and Maps application (also powered by Bing). If you haven't, you'll find a search for "McDonalds" in Melbourne will take you to McDonalds of South Carolina, USA. Not quite within walking distance.
Fortunately, Rafael Rivera and I have found a workaround. Although it's going to sound stupid, rest assured, it means you won't be completely out of luck until Microsoft fixes this.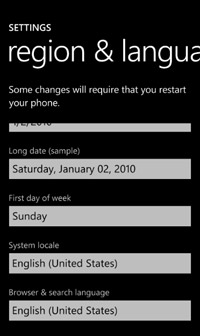 Enable "Local" results in Bing search and Maps:
Go to the application list
Open "Settings"
Open "region & language"
Scroll to bottom and change "Browser & search language" to "English (United States)"
Furthermore, you can opt to sell out more of your Australian pride for the extra voice searching functionality (ex. "Find Pizza in Melbourne") which too has been disabled.
Enable voice searching:
Scroll to top and change "Display language" to "English (United States)"
Change the "Regional format" to "English (Australia)"
Touch the "Tap here to accept changes and restart your phone." link
Note: This setting is OEM-dependent and may be limited or disabled in which case will have no effect. HTC devices seems to have this locked. LG and Samsung do not.
The two downside to this workaround is that all distances will be provided in miles instead of kilometres and "News" results will source US publishers than Australian ones. Pain worth suffering in my opinion.
Although it's hard to fully comprehend the irony of this situation, I'm guessing the reason behind this is the fact that Bing's mobile web service does not return "local" results if the locale is set to Australian. Having said that they obviously don't lack the database to provide such a service since it's filled with local listings provided by Yellow Pages. Can someone please flick the switch.