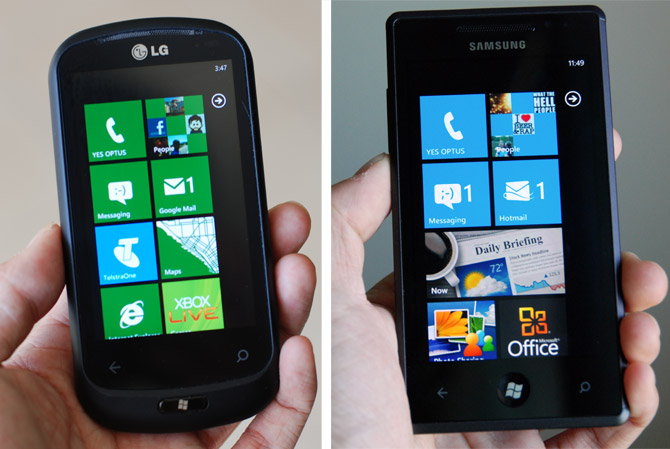 Over the course of the past seven days I've had the pleasure of using two different Windows Phone 7 launch devices in Australia. The first being an LG Optimus 7Q and now a Samsung Omnia 7.
Side by side in the photos above, the phones might appear equally impressive on the surface. They are both running Windows Phone 7 after all. Having said that, my personal experience shows there is a world of difference using them.
Since the early days of WP7 speculation, it became well established that all Windows Phone 7 hardware will have minimum specifications set by Microsoft. It was further revealed, Microsoft will even provide guidelines on physical form factors via a number of "chassis" designs.
The news at the time was unanimously supported by the enthusiast community as a sign that Microsoft will be raising the bar for "Windows Phone" both as a brand and as a product.
Fortunately, this turned out to be true and it appears all Windows Phone 7 devices run Windows Phone 7 extremely well. But, that's not to be said all Windows Phone 7 devices are great phones of the same.
Take the LG Optimus 7Q first, it's not a well designed phone, period.
Even if you looked past its bulky weight and size for the physical slide-out keyboard, the position and size of the hardware buttons are truly baffling. The most obvious being the Start button which doesn't align with the back or search button and forces your thumb to stretch to its limits just to reach it.
Other buttons around the difficult-to-grip rounded case barely extrude in millimeters, making what should be obvious tactile interactions both difficult to locate and press. Usability aside, even the size and brightness of the screen is more inline with last-generation's Windows Mobile 6.5 hardware than WP7.
On the opposite side of the spectrum, the Samsung Omnia 7 is not just an impressive Windows Phone 7 device, it's an impressive mobile phone.
It's light, thin yet sturdy thanks to a brushed metal frame that encompasses the entire device except the front where the flush super AMOLED screen is almost like a single piece of flawless black marble that is equally gorgeous on or off. Of course, the hardware buttons are sizable in all three dimensions with a satisfying responsive feel.
The moral of the story is, as consistent Windows Phone 7 devices may appear, you should still judge each phone on its own merit. In this case, the two phones couldn't be more miles apart. Whilst this process is a lot easier compared to Android phones where you would also have to take into account the software, it's an important factor that will have an influence on the whole Windows Phone 7 experience.
For now, I'm sold on the Samsung Omnia 7.