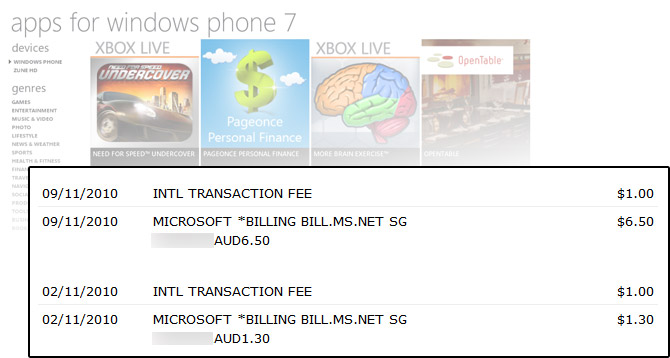 What's worse than getting billed in a foreign currency with an international transaction fee for Windows Phone 7 marketplace purchases in Australia? Getting billed in Australian Dollars (AUD) with an international transaction fee of course.
For Windows Phone 7 users in Australia, using credit card billing to purchase apps and games on the WP7 marketplace could cost much more than advertised.
The issue seems to lie with how and specifically where Microsoft is billing Australian users. Even though Microsoft took the liberty of charging purchases in the correct local currency, however they're processing these transactions in Singapore (Microsoft's Asia Pacific head office) which unfortunately makes these international transactions.
Whilst different Australian banks and card issuers specify their own international transaction fees, on average it's a negligible 3%. But true to the evil nature of banks, these transaction fees could be rounded up to the nearest dollar.
Thanks to Microsoft's individualised billing of each purchase, the infamous $0.99 mobile application actually incur a 101% surcharge.
I've since contacted Microsoft Australia to look in to the issue and hopefully offer a solution soon. In the meantime, Australian WP7 users should either switch to carrier billing or hold off buying more fart apps.
Although I'm fairly certain Microsoft is not intentionally screwing with Australians (because we had universal health care for so long 😛), I wouldn't blame you if you're starting to doubt it.
Update: I'm also reading some users are claim not to be charged any international transaction fees for WP7 apps purchased in Australia with a credit card. I'm now trying to find out how those transactions are different.