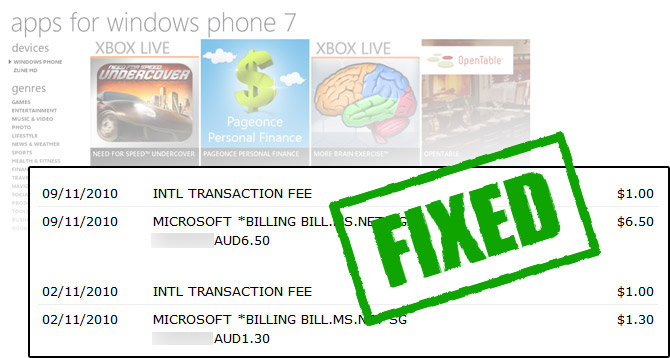 Good news for Australian Windows Phone 7 users (and other regional markets around the world), Microsoft has finally fixed the international transaction fee issue some users have experienced with credit card purchases of applications and games from the WP7 marketplace.
As suspected, the root cause was that Microsoft didn't have payment processing facilities in a number of regional markets around the world to handle credit card transactions locally. In Australia's case, these transactions were previously processed in Microsoft's Asia Pacific hub, Singapore. Instead, now they are processed in Sydney as "MICROSOFT *WIN PHONE NORTH RYDE".
Even though I have to point out oddly the problem was not experienced by every Australian user, some combination of bank accounts and credit card issuers resulted in an international transaction fee for every purchase transaction – a severe financial penalty when transactions are small but many for a mobile marketplace.
Due to the third-party and international nature of the issue, I applaud the Windows Phone 7 team to look into it and addressing it as quickly as they did. The Zune team could learn a lesson or two.