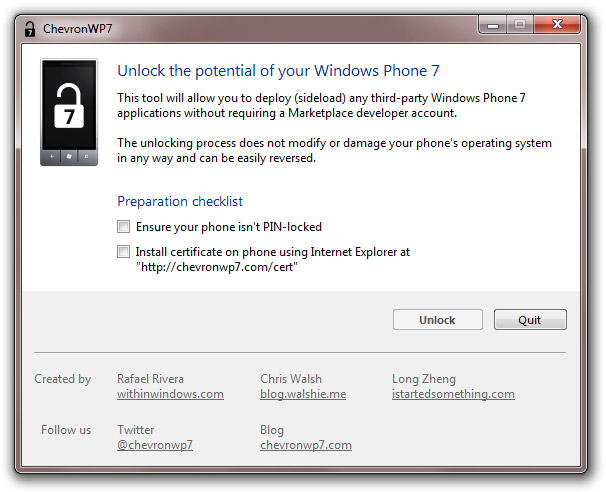 After many long hours of Skype banter over the past week, we've finally opened Pandora's box.
Today, together with Rafael Rivera and Chris Walsh, we're releasing an elegantly simple tool to allow any user to unlock any retail Windows Phone 7 device for application side-loading (without having a WP7 marketplace registration account which costs US$99/year).
You can find the download and keep track of any further homebrew developments on the official ChevronWP7 group blog.
As I advocated previously, I believe having broader access to a device is both important to developers who might want to push the boundaries of what is "permitted" by just the public APIs, and users who may want to further customize and tweak their device (e.g. ringtones, custom theme colors, hardware search button, WiFi hotspot).
Windows Phone 7 homebrew developers, start your engines.
Update: If anyone was concerned about piracy, please read "Our stance on piracy" post.
Update 2: I have another followup post clearing up some further false allegations surrounding ChevronWP7 and piracy.
Update 3: We have a new blog post "Pursuing the future of homebrew on Windows Phone 7".