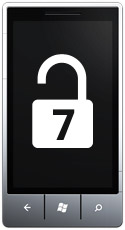 I would be lying if I said I didn't think some people would get the wrong idea about ChevronWP7, which is why we went into great lengths to emphasis it is just an unlocking tool and even outlined our position on application piracy. What I didn't think is that people would actually accuse us of advocating piracy itself.
One post in particular, "My Thoughts On 'ChevronWP7′" by Michael B. McLaughlin is riddled with so many false allegations that begs a response. Although this post will be replying to excerpts of his writing directly, I hope this will help clear the air for others as well.
"ChevronWP7" is a "jail-breaking" thing
…
"Jailbreaking" is just a euphemism for "helping criminals steal from developers who depend on the software they write to help pay their rent, feed their kids, buy clothes, and meet the other ordinary expenses one incurs in life".
First of all, the common understanding of a jailbreak is gaining root access to a device that otherwise has a limited API, which I might add was recently ruled a legal practice with the support of the EFF. Misrepresenting jailbreaking for application piracy is a far stretch of the truth.
I really don't care what your motives are. The fact remains that you have created a tool, the sole purpose of which is to circumvent the security restrictions of the phone.
Personally I think my motives are pretty important in the context of this issue and that is to help develop a community of Windows Phone 7 homebrew developers and users.
Nevertheless, the sole purpose of the tool is also quite simple – to enable anyone to sideload an unpublished application to their Windows Phone 7 device.
I must emphasize the ability to sideload and run unpublished applications is a supported functionality of all Windows Phone 7 devices. Although not enabled by default, it's a behavior embedded into the design of the operating system itself. That's all ChevronWP7 does.
You say that the tool can't be used to illegally load apps from the marketplace. How should we know? Because you say so?
…
Anyone who thinks that doesn't hasten the arrival of pirated apps is deluding themselves. You've moved the ball forward on that. You. Not someone else. The fact that someone else might have done it eventually anyway doesn't make it any less harmful and doesn't make it "OK" that you did it.
We say this because none of our efforts has any effect or influence on what would be necessary for application piracy. Microsoft has implemented what we understand to be sufficient anti-piracy protection on all applications published on the Marketplace and it's not our intention to break them.
Of course someone out there could be attempting to break that protection, but our tool and efforts does not aide them since it makes no modifications to the operating system's security mechanisms.
Just to play devil's advocate, even if the protection is compromised, we would support Microsoft hardening its anti-piracy mechanisms for published applications since it should not have any impact on any homebrew efforts outside of the Marketplace.
Do whatever it takes to help yourself get to sleep at night. Because being a celebrity is totally worth being a sociopath without any concern for your fellow human beings. Isn't it?
As someone who tries to be a compassionate and considerate person and member of society, this is extremely offensive.
Microsoft banning you would simply be them sticking up for us. It's their call how to deal with this abominable act of yours, of course. But don't harbor any illusions that developers would universally support you. This developer, at least, most certainly would not.
I fully intend to pursue my goal to enhance the Windows Phone 7 experience for myself and anyone else who understands the nature of our work. It's a shame Michael doesn't feel the same way.
Update: The first homebrew Windows Phone 7 application that enables custom ringtones has just been released.
Update 2: We have a new blog post "Pursuing the future of homebrew on Windows Phone 7".