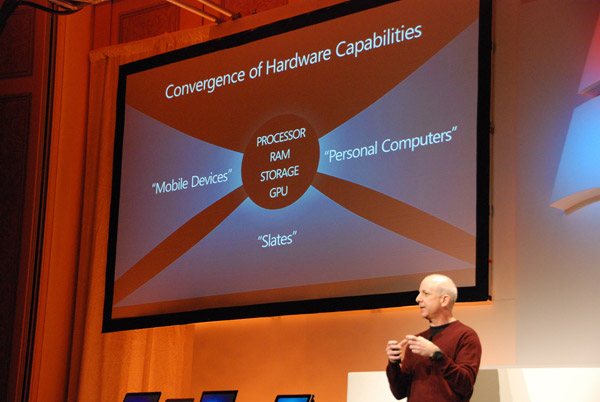 At the Microsoft Special Press Conference ahead of CES 2011 where Steven Sinofsky first revealed information about the next version of Windows with native ARM support, one journalist asked a great question – since Windows Phone is ARM-centric, whether the next version of Windows will also power the next major release of Windows Phone? Sinofsky avoided to answer the question entirely.
If you think about Steve Ballmer's quote from Microsoft's keynote, "Windows will be everywhere", desktops, laptops, slates/tablets, phones and even Surfaces could all be considered form factors of a Windows PC, running the same operating system across x86 and ARM.
Although the exact definition of a kernel is highly contentious, for the purpose of this discussion I'm looking at it in the perspective of the engineering efforts where the functionality enabled by a single codebase can be used to empower every device running Windows.
Bearing in mind a unified kernel does not necessarily mean the same 10GB+ OS footprint and the same UI for every variation of Windows, what it should mean is faster and more consistent adoption of newer technologies and standards across the Windows family. At the very least, basic needs like high performance, connectivity and long battery life is applicable for all devices.
For a higher level example, the Windows 7 kernel introduced native framework support for biometric devices like fingerprint scanners. This removed the need for vendors to provide their own drivers, applications and SDKs for users and developers to take advantage of them.
Whereas biometrics might make its way into embedded devices and phones running a WinCE-based system (like Windows Phone 7), OEMs would currently have to wait for a different WinCE update cycle to introduce support for biometrics too, if they're even considering it for the next version.
In an environment with a unified OS, such kernel-level features would be instantly available to all Windows devices at the same time delivering a much more consistent experience across form factors.
Disclosure: I am attending CES 2011 as a guest of Microsoft Australia.