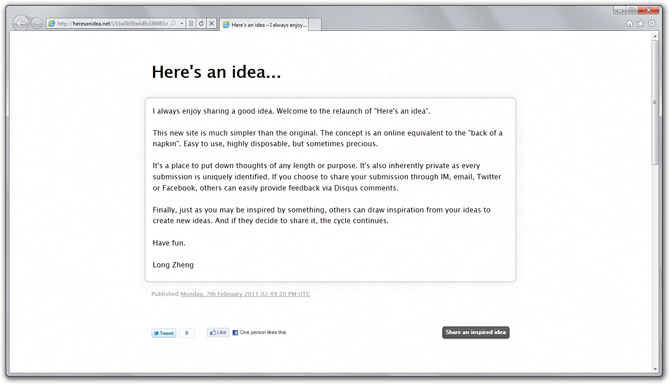 I love a good idea. What I love more is sharing and talking about ideas with friends. What I've found though is that doing that is actually very hard.
Twitter although simple is too short. Emails although ubiquitous are too complex. Instant messaging although convenient is too narrow. Facebook although social is too broad. And so on.
Since my original attempt at a solution didn't work out so well, I decided to take a whole new direction with a new version which sparked in my head last night. This new version of Here's an idea only took a day to put together, not because I'm some sort of wizard in disguise, but because it's simple to the core, the way it should be.
Drawing inspiration from photo sharing websites, GitHub Gist, Reddit and Notepad, the new site is designed to be an easy, fast and private way to share ideas, thoughts, or anything that fits in a text field. And if you choose to share it, the page serves as a central point of feedback.
I look forward to hearing what people think of it.