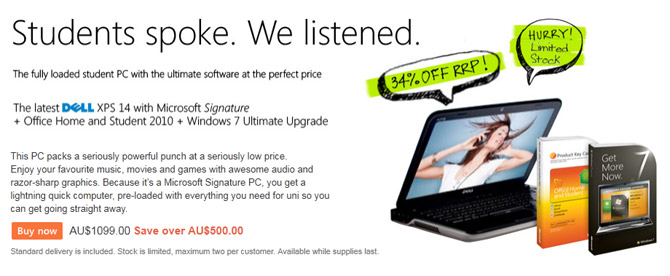 The newly relaunched Microsoft Signature brand has made the huge leap across the Pacific Ocean tonight as the first bloat-free and performance-optimized PC is now available on sale exclusively from the Australian online Microsoft Store.
The back-to-school "Student PC offer", although available to anyone for purchase, is a Dell XPS 14 laptop with Windows 7 Ultimate and Office Home and Student 2010. What you lack in ability to customize the specifications, Microsoft makes up for with a sizable 34% discount off the recommended retail price – worth a cool $500.
The PC's secret sauce of course is Microsoft Signature, an effort by the company's OEM group to improve the out-of-box experience by primarily reducing the number of pre-loaded third party application. Although it's unfortunate that the PC ecosystem has come to this point where a "standard" PC experience is so poor, Microsoft needs to intervene, at least there's a choice.
If you do choose to take up on nice offer, hurry as it's only available while stocks last.