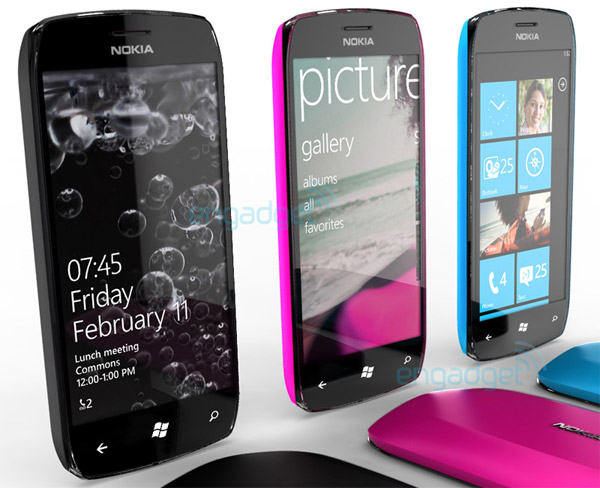 An image posted by Engadget today portrayed to be concepts of an upcoming Nokia Windows Phone 7 device should be taken with a grain of salt. From afar, it's easy to be captivated by the elegant industrial design, but a closer look reveals a glaring mistake that results in one of two possibilities, the more likely of which is that it's a fake not an final design.
The mistake is actually quite obvious once you see it. There are too many tiles on the home screen. Due to Microsoft's specification of the screen resolution (and indirectly aspect ratio), only slightly less than 4 tiles should be visible. The Nokia concept contradicts this by showing even fraction of the fifth (with the top of the tiles lining up with the arrow). This would only be possible if the display proportions are not the same.
Although it's still possible this concept may still be authorized by Nokia, it just means that this is not a very realistic representation of the phone. Sloppy, as some might put it. The real phone should either a little fatter or shorter.
The other less likely but more frightening possibility is that this is real and would actually mark the beginning of Windows Phone 7's fragmentation. For everyone's sake I hope it's the former.
Update: This concept photo plus another newer one still showing the extra tile is being shown off by Nokia at Mobile World Congress 2011.
My argument remains that this does not look like a "rough" design. Most of the elements appear to be designed to specification, thus if these concepts are accurate would be very concerning for the Windows Phone 7 ecosystem. Does fragmentation begin at screen resolution?