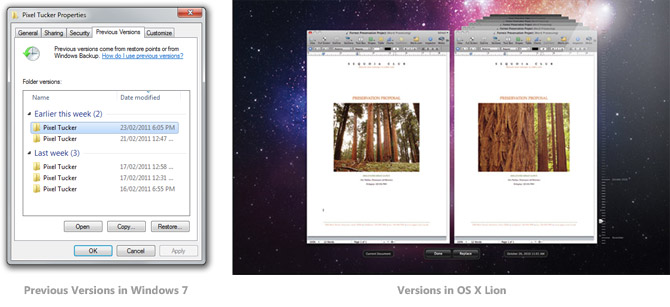 Once again, Microsoft may have implemented the technology first, but Apple has turned it into a compelling end-user experience. Credit where credit is due for both parties.
The feature in question is Volume Shadow Copy which some of you might know of as "Previous Versions" introduced to the file properties dialog since Windows Vista. Even fewer of you might have even used it to recover an old file. If not, I don't blame you since it's neither well exposed and easy to use.
After OS X Lion is released in approximately a few months, it's my guess many folds more users are going to love "Versions". Why? Because even if they don't need to recover a file, they're going to enjoy the visual spectacle of traveling through time with their documents.
"Function over form" comes to mind with Microsoft's approach with a traditional list control. Some might argue Apple's is "form over function" but if you consider both the visuals of the preview and the timeline, you'd understand that the form is the function in this case. And the space background? It's pretty.
Note: The UI for Versions is not unlike Time Machine introduced in Leopard, however that feature required an external drive to function, thus it was a backup feature.