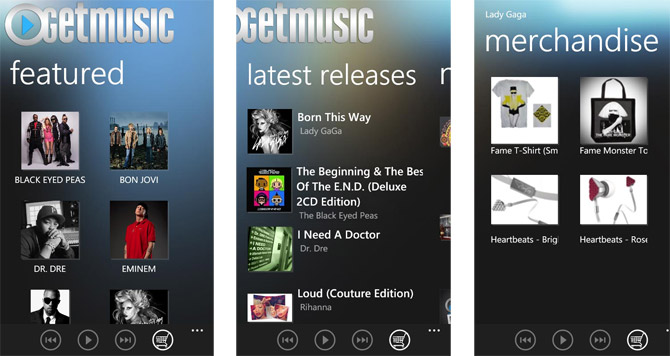 Today, Microsoft Australia is filling the music void on Windows Phone 7 in Australia by putting their support behind a companion mobile application for Getmusic.com.au, a third-party music marketplace service by Universal Music Australia.
The free application allows users to browse, preview and download DRM-free songs from over 300 artists signed with the Universal Music Group which includes Lady Gaga, Black Eyed Peas, U2, Eminem and Justin Bieber. In addition to just music, users can also view purchases by friends, read entertainment news, buy merchandise and enter competitions within the application.
Unfortunately due to WP7's API limitations, the purchasing experience is not anywhere near as convenient as the native Zune marketplace would otherwise be. Besides having to set up yet another billing account, the app isn't actually able to download the music to the library so users won't be able seamlessly play the songs in the Music + Videos hub.
Instead, users will be emailed an MP3 download link for every purchase which they can save to their PC's library to sync with the Zune client. Oh what fun.
If you've been holding your breathe for Zune's music service in Australia, at this point it's probably more productive to watch paint dry, while your face turns purple.