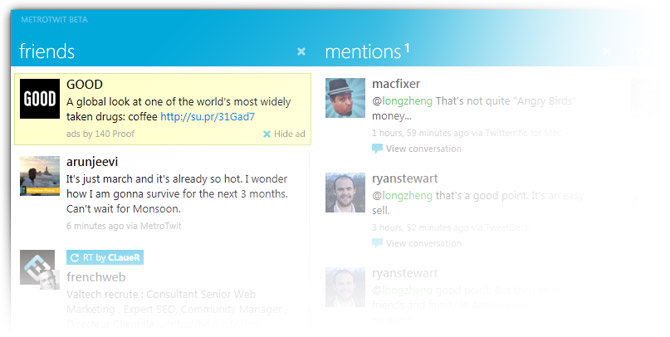 It wasn't that long ago the pixels were inside Photoshop.
Moments ago, we've just pushed out the 30th update to MetroTwit which among many bug fixes also adds 140proof integration. Similar to Echofon on Mac and UberSocial on Blackberry, we're now serving a single user-tailored advertisement in the client.
As most of you may know, we (David Golden, Winston Pang and I) currently develop MetroTwit on a casual basis because we're passionate about creating fun, usable and well-designed software experience.
We're experimenting with this ad-supported model because we wanted to maintain the ability for anyone to want to freely try our software and at the same time build incentives for us to deliver even more, quicker. At the same time, working within the bounds of Twitter's terms of service.
It's not our intention to annoy anyone so we've even made it very easy for users to hide the ad in 45 minute blocks (clarification: you can hide it for unlimited number of times). We did this because 140proof wisely serves ads based on interests gathered from the tweet stream, which means there might actually be something of interest. Of course we look forward to feedback on all this.
Having said that, we know we're far from perfect. We have many issues, largely tied to the performance of WPF, yet to resolve, and many useful features to add like multi-account support and streaming. Unfortunately, as independent and hobby developers (without multimillion dollar funding), these things take much longer than some would like, including myself.
We understand you have a plethora of choices with Twitter clients and I would understand if some of you may want to switch. If you're interested in another Metro-inspired Twitter client, check out the open source MahTweets project by a fellow Aussie.
I appreciate all the support we've received in the past 9 months and look forward to continuing refining our vision for the Windows Twitter client you'll love to use.
Update: The popular response has been that users want a paid ad-free version which we are of course seriously considering. Just to make it clear, this is the type of feedback we were after in the first place. It was our intention to hear the most important people, our users, what they wanted given the context of the situation and we're getting lots of interesting responses.