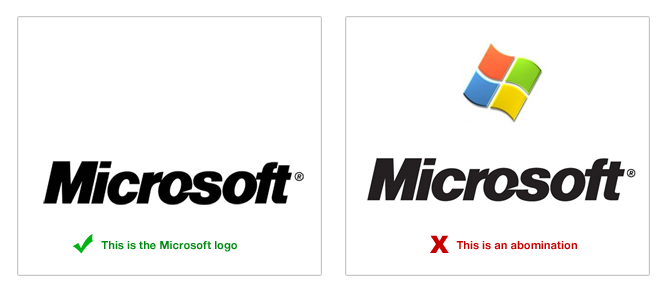 You know what really grinds my gears, people who screw up the Microsoft logo. No I don't work for Microsoft's legal department, in fact I despise lawyers, but it's beyond comprehension how some people think the Microsoft logo is the one on the right.
Not surprisingly it's not even the proper Windows flag. The sequence of colors is right, but the shape and bevel is all wrong. One is for a product, another is for a company. It's not that confusing.
Like me, you've probably seen it lingering around the net. I'm not sure where it began but the first time I saw it must have been at least 2 years ago and has been plaguing the web since. As an indication of its popularity, it's one of the top image results on both Google and Bing for "Microsoft logo".
What's worrying is that this doesn't seem to be just a novice mistake. The list of notable offenders include but is not limited to prestigious publications to the like of the Wall Street Journal, to generic technology news sites, and even companies started by former Microsoft employees.
As I know there are many others out there I've previously witnessed with my own eyes, please leave a comment if you ever come across one. It must be stopped.