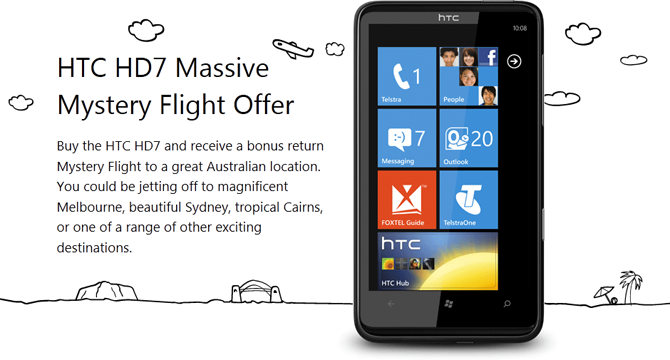 Nevermind the two free XBOX 360 games, here's an even better freebie for Aussies buying a Telstra HTC HD7 right this instance – a guaranteed free return flight to a mystery destination around Australia.
Don't ask me why the two offers aren't together or even cross-promoted, but thanks to a heads up from Michael Casha, the "HTC HD7 Massive Mystery Flight Offer" is yet another legitimate promotional offer from the ever so generous Microsoft Australia.
Although a $10 booking fee and travel date restrictions applies, there's a chance of you could end up going to somewhere exciting like Uluru, Whitsunday Coast or Hamilton Island among the usual list of 33 holiday destinations around Australia. It's worth noting that both Melbourne airports are listed, so I sincerely hope any Melbournians don't end up flying from one to the other.
Similar to the other offer, this offer is only eligible for purchases between 15th of April and 31st which unfortunately discriminates the early adopters of the HD7 who purchased the device during the launch week of March 29. Maybe Microsoft will have a change of heart and correct that.