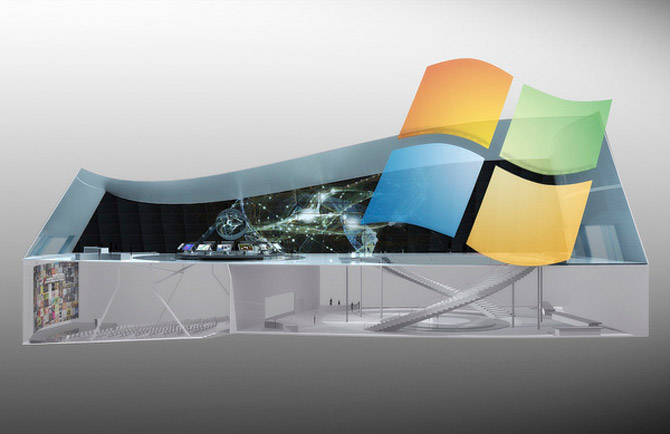 The Fifth Avenue Apple Store is rightfully an impressive display of architectural design, but who's to say no one can do better. A marketing pitch by advertising agency JWT to Microsoft reveals a breathtaking conceptual retail store that would certainly make an impression for Microsoft in retail – much more than the current Microsoft Stores.
Posted by John Doyle to his creative portfolio, the pitch describes "a destination that celebrated the pulse of inventive thinking, conceived on PC's, around the world. A place for conferencing, education, and retail that displayed the best of inventive thinking."
The renderings detail a stretched two-level structure with flowing curved glass walls and roof, resembling the sides of the Windows logo which also makes a grand appearance towering over the entire store.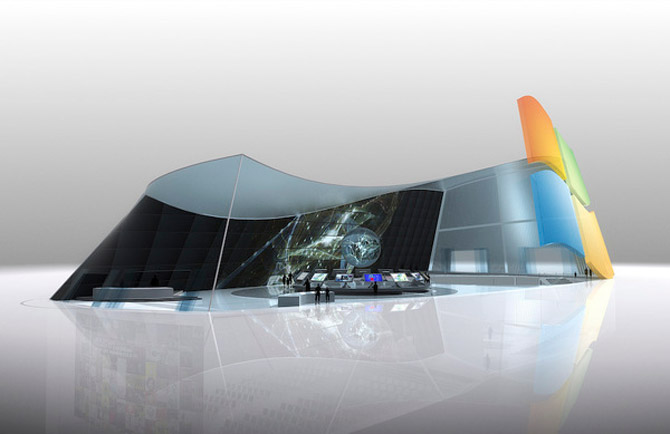 Inside, the top level resembles a contemporary museum with an entire wall panoramic imagery. In the middle, large touch panels surround a globe with visualized projections (which Microsoft already has). Following the helix-like stairs, below-surface enhouses a retail area and a presentation room the size of a small movie theater.
Those who has visited Microsoft's Redmond campus might be familiar with the Microsoft Visitor Center, a showcase of a much smaller scale. Clearly Microsoft has a lot to show for and be proud of, they just need to present it, well, outside of their own walls.
Head over to the portfolio page for more pictures. Be prepared to wipe your drool.