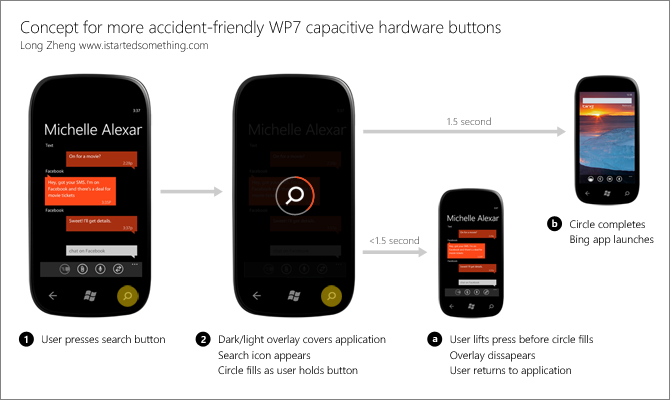 Just when you think you're careful enough, it strikes without mercy. Nevermind the hilarious YouTube you were watching or photo you're about to take, it's Bing time. I am of course referring to the inconspicuous but deadly capacitive search button on most of the popular Windows Phone 7 devices.
In spite of the firmware updates trickling out to some Samsung devices which disables the capacitive hardware buttons whilst the touchscreen is touched, the problem is not completely resolved and it's simply too easy to accidentally activate the "back" and "search" buttons, even if you're careful.
Since I enjoy myself a design challenge, I came up with this mockup taking some inspiration from the tap-and-hold gesture found on the desktop version of Windows.
In essence, it would provide a short buffer that would allow users to cancel their action without repercussions. Of course those who actually want to complete the action can do so as well without any too much hassle either.
Unfortunately, due to the new press-and-hold multitasking behavior of the "back" button in Mango limits the idea to just the search button. Nevertheless that seems to be the button I accidentally press the most anyway. Feedback welcome.