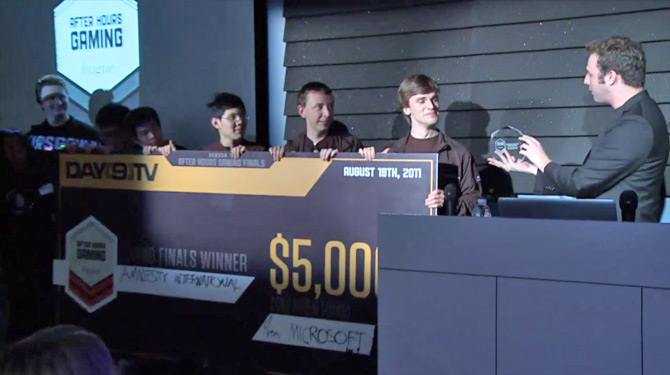 Forget about market share or profits, Starcraft 2 rankings is what matters and as of two days ago Microsoft just became the undefeated champions of eSports' After Hours Gaming League winning the $5000 prize money for the charity of their choice, Amnesty International.
During the grand finals at Facebook's headquarters, the Microsoft team defeated Zynga in a 5-set match to take out the competition's first prize with a relentless 7 wins 0 loss season record. During the preliminary rounds, Microsoft played against and defeated all of Google, Yelp, Amazon, Twitter, Facebook and Dropbox.
The captain of the Microsoft team, Nathaniel "NATO" Tucker, credited the support from Redmond for their success in the competition. "We have a very active of people who love Starcraft at Microsoft so it was really their support to give us the energy to dominate this season." The team also sported a cool shirt with the slogan "Macro hard, Microsoft" and the race symbols of Starcraft in the style of the "I love Windows Phone" shirt.
The first game of five is embedded below. The rest of the games can be viewed here. GG Microsoft.