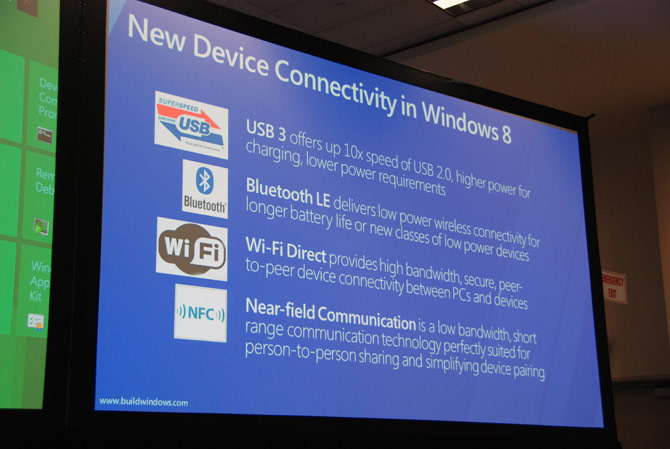 As the BUILD conference represents a combination of formerly separate software and hardware events, Microsoft has many sessions dedicated to the design of hardware for Windows 8 devices. In the first of these sessions, Dennis Flanagan provided an overview of the hardware improvements in Windows 8 including some interesting connectivity additions and improvements.
As most people would have seen on the B8 blog, USB 3 enables much more performant file transfer operations. On top of this, Windows 8 will also take advantage of newer power profiles that exist in the USB 3.0 specification to enable lower power usage with USB 3.0 enabled devices.
Windows 8 also enables connecting to peripherals that aren't already mainstream. By adding support for Bluetooth Low Energy, Microsoft anticipates a range of new low-powered interactive devices such as medical monitors with just watch batteries to connect and transfer data with Windows 8.
To extend existing technologies, WiFi Direct is a new standard that enables devices to easily create a peer-to-peer connection without a network. Windows 8 adds support for these connections to exchange data with higher bandwidth requirements than Bluetooth. Windows 8's PlayTo will also be able to use WiFi Direct to stream media and videos to players like TVs.
Finally, Windows 8 also has built-in support for Near Field Communication to enable instant device-to-tag and device-to-device communications. As demoed in the keynote, Windows 8 has the ability to launch web links and applications by simply tapping a NFC-card. What wasn't demonstrated will also be the ability to share URLs, photos, applications and games between Windows 8 devices by simply bumping them.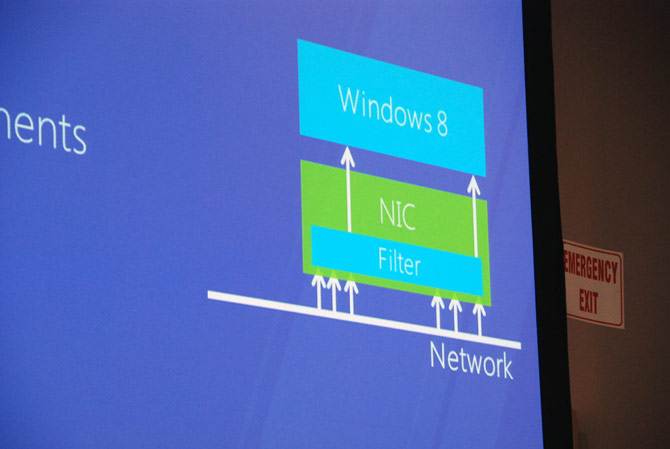 On a related note, Microsoft explained networking is one of the biggest culprits of driving PCs to higher energy states than optimal as an increasing number of application require constant network access.
To optimize the balance between power usage and network connectivity, Windows 8 enables a network-connected standby state that filters and collates network requests in a more efficient manner that groups separate requests before passing it onto applications and the system.