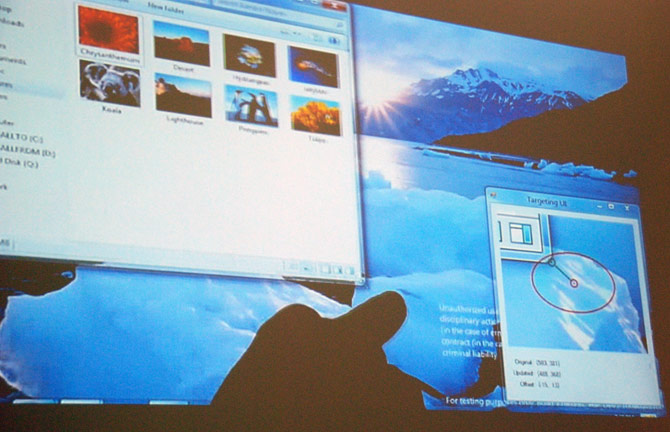 At the "Designing Metro style apps that are touch-optimized" session at BUILD 2011, Kay Hofmeester and Jan-Kristian Markiewicz revealed an extremely subtle improvement to touch in Windows 8, among many. It turns out there's actually some built-in error correction for touch targets.
The image above shows an internal tool that indicates the feature in practice. As the actual touch point of the finger is indicated by the small circle that's slightly away from the border of the Aero window. The larger oval represents a "touch area" that Windows 8 actually analyzes for touchable elements.
In this particular example, Windows has actually locked on to the corner of the application windows which is what is required to resize the window even if the finger touch point is not actually over it.
As someone who's experienced a fair share of frustration with touch in previous versions of Windows, this is a welcomed addition to the constantly improving Windows bag of tricks for touch. Although it's unclear if this improvement applies to the new Start menu and Metro-style applications, it will certainly relieve some frustration of using the traditional desktop with touch.