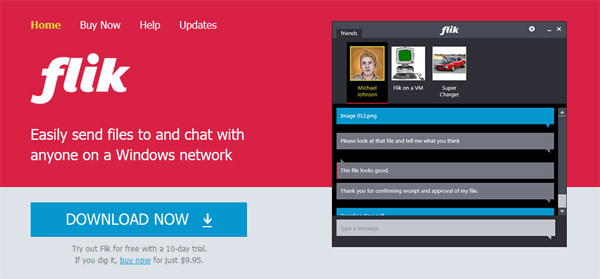 Knowing how difficult working with WPF can be, it's easy to appreciate a good app when you see one. "Flik" is a new Windows-exclusive application that aims to make local network chatting and file sharing as simple as yet ironically, the web.
You'll be hard pressed to find an app easier to set up and use. There's basically no configuration. Install it on at least two computers in the same Windows network and voila, the computers magically shows up for instant interaction. It's like the modern version of NET SEND with the ability to transfer files, which are compressed before being directly transferred, a nice touch.
I know from my own development experience the simplest user experience often takes the most effort. The fact this app "just works" is a notable accomplishment in itself. Although I personally don't have a need for this, the looks alone made it worth checking out. The app is $9.95 after a 10-day trial.