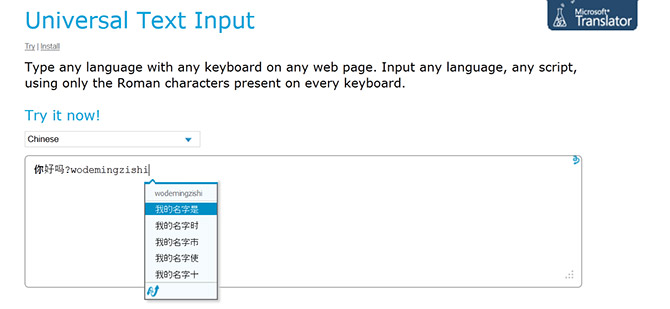 For large parts of the world, not only is English not the primary language but the localized text is not even composed of Latin/Roman characters. Besides the fact that most IBM PC-standard keyboards only have Latin characters, it's physically impractical to design one for languages such as Chinese with thousands of unique characters.
That's where Input Method Editors, or IMEs, come in. Now an experimental Microsoft Translator Labs project "Universal Text Input" is beginning to port an IME to the web, independent of the operating system. Currently only a small set of languages are available: Arabic, Chinese, English, French, Greek, Japanese and Russian.
It is worth noting Microsoft is not the first to do this, Google already has a transliteration IME available and integrated into many of its services. Both systems use a combination of Javascript that sends users' characters to a JSON-powered web service that attempts to translate the Latin characters into the desired language. Both also offer a bookmarklet to enable this functionality on any website.
However, one difference in Microsoft's system is that it also offers English as-you-type corrections. Unfortunately the latency to the web service makes it quite difficult to use fluidly.
Although desktop-based IMEs are already more advanced than both of these solutions with prediction algorithms, I anticipate web-based IMEs will have the upper hand in the near future when it comes to crowd-sourcing telemetry and updating its algorithms to become smarter the more people use it.