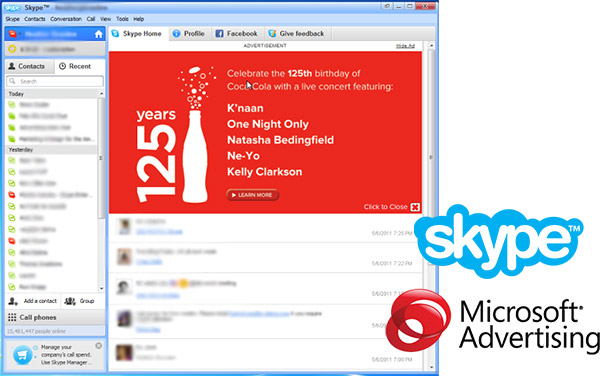 Since it closed acquisitions of Skype last month, Microsoft has taken the first steps to integrate its new baby into the extended family by switching over management of Skype's client display advertising from third parties to its own. Can you feel the synergy in the air?
It should be noted Skype introduced advertising in its Windows and iPhone clients months before Microsoft's acquisition however Skype had to partner with a variety of companies in various geographical regions to sell this very premium screen real-estate.
Up until very recently, Meebo was responsible for the US region which has since been replaced by Microsoft Advertising. Of course I expect other regions to soon make the transition too if Australia is any indication.
Last week, Microsoft Australia announced a joint venture with Nine Network to create Mi9, Australia's largest digital ad network which will assume responsibility for advertising on NineMSN, Bing, XBOX, Hotmail and Messenger in Australia. It also stated, "in 2012 Skype advertising opportunities will also join the family."
Now with over 35.8 million unique users and an impressive demographic profile in its portfolio, people who claimed advertising was a big factor in Microsoft's decision was right on the money. Even Microsoft Advertising brags by advertising on MSN and Skype, advertisers can reach 35% of the entire online audience.
Suddenly the idea of in-call advertising no longer seems far fetched.