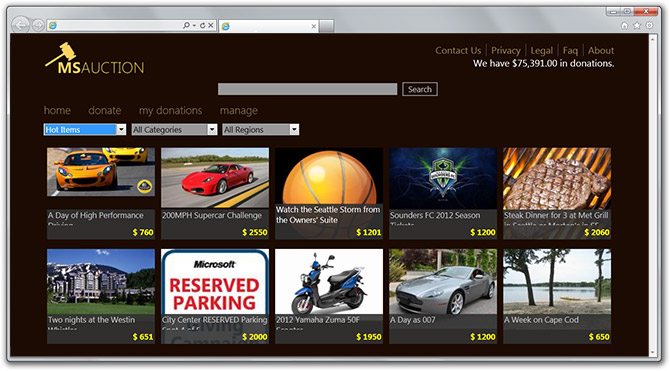 If photobooks or music albums doesn't fancy you, then how about an Aston Martin Vanquish? For at least one Microsoft employee, the dream of driving like James Bond for a day came true just by placing a bid in the Microsoft Online Charity Auction, one of the most popular employee initiatives of the Employee Giving Campaign.
Unknown to most people outside of the company, this annual employee-only auction has grown to become somewhat of an attraction since it started in 2003. Just to paint a picture how big of a deal this is, this year's auction has raised over $600,000 for United Way.
Two weeks before the auction begins, employees are encouraged to submit novelty prizes for the bidding that takes place during the month of October. Although it's not a requirement, there's a growing reputation for fun, wacky and downright bizarre prizes. Over 1,000 items donated this year, 16% more than last year. A sample of items past included:
Highly-valued reserved parking spots at prime Microsoft building locations
Tesla Roadster Joy Ride: An hour ride in the electric convertible car
Lunch for 10 with Chief Research and Strategy Officer Craig Mundie at Microsoft's Home of the Future
Mr Big's Boxers: A pair of boxer shorts signed by actor Chris Noth, a.k.a. Mr. Big in "Sex and the City"
Specially prepared food from fresh baked bread to a peanut butter and jelly sandwich party
A personal music video professionally produced or personal written song
A chance to compete with a Microsoft Vice President in martial arts
Chance to cut off an employee's pony tail for the charity Wigs for Kids
dinner on Senior Vice President and General Counsel Brad Smith's yacht
Not only has the scale of the auction changed over the years but the technology too. Starting out with a portal powered by BizTalk and InfoPath forms, it was rewritten as a HTML website in 2006 and Silverlight in 2009. This year it saw a total transition to Windows Azure and SQL Azure with a Metro-inspired HTML5 website which minimized performance degradations during last-minute bidding.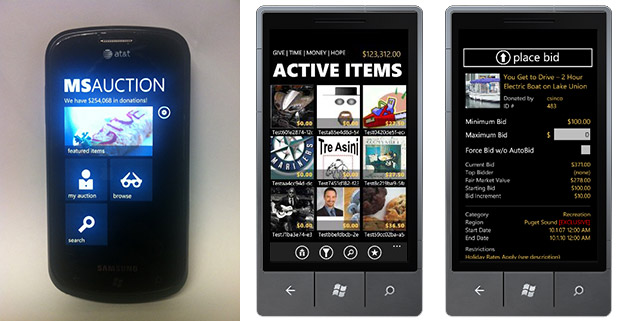 As part of the dogfooding spirit, this year also saw the introduction of a Windows Phone 7 application to make bidding and tracking auction items even easier.
I tip my hat off to the team of roughly 20 volunteers who plan and build the auction tools every year, some of whom have been with the project for over five years. If being responsible for processing more than half a million dollars of donations wasn't enough, they generate a further $30,000 through Microsoft's volunteer matching scheme. They must be swimming in karma.
P.S. On a related note, I've since gotten in touch with the charity Microsoft Cat Calendar people. Look forward to an interesting story about that next month.