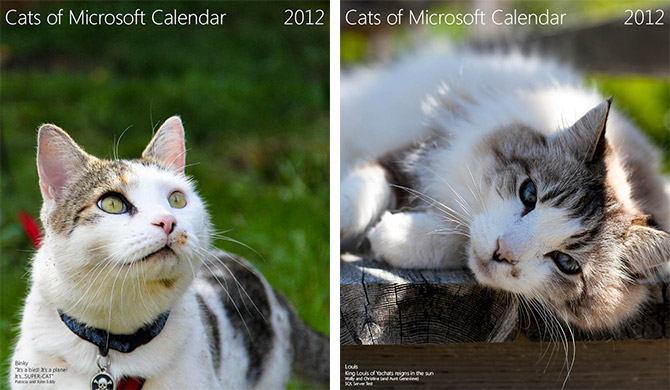 Since it's a fact the internet was invented to share pictures and videos of cats, it's no surprise there's a big cat following at a Microsoft. Wrapping my series of interesting projects organized by Microsoft employees to raise money for its 2011 charity giving campaign is none other than a cat calendar.
Coordinated by Karen Easterbrook of Microsoft Research, Kristi Minietta, Susan Bunch and Alex Sutton, the cat calendar is now in its fourth year – which is like 35 cat years. During last October, they received over 1,000 cat photo submissions cats by Microsoft employees which had to be spread across two editions.
The fact the calendar started from an idea on a cat-oriented mailing list is indicative of the enthusiasm from the cat community at Microsoft. Karen jokes "somehow, for four years, we have pulled this off, and had way too much fun doing it."
Although no doubts they do it partly for the awwweee, they also support a great local cause – raising funds for the "Forget Me Not" animal shelter of Ferry County in Washington State (where Microsoft Redmond is located) which they have been supporting for several years.
Even with the calendar still selling, they are projecting to raise over $45,000 for the shelter this year with the Microsoft donation matching scheme. Their money has already helped secure dog kernels, help control feral cat colonies and support low-cost neutering for the community. It really sounds like a win-win-win relationship for the Microsofties, shelter and cats.
Between all the interesting charity projects I've written about this year – photobook, music album and auction, the cat calendar definitely scores highly on the cute scale.