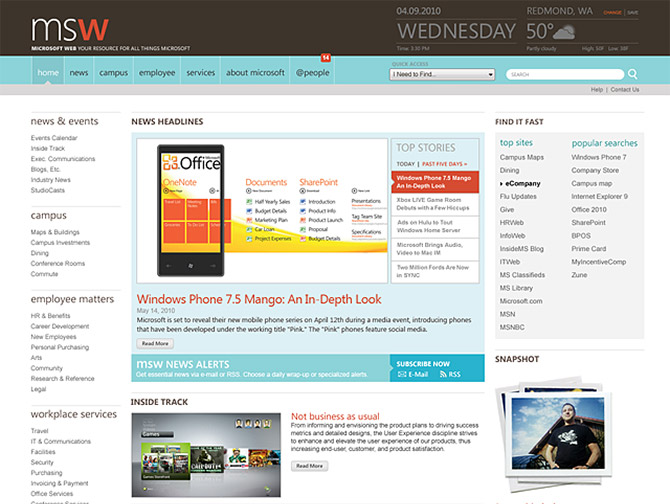 A rare glimpse into Microsoft's infamous and confidential global employee intranet portal "msweb" reveals a recent Metro-inspired facelift, thanks to the proud work of a design company responsible for the redesign project.
Design studio "If/Then" who posted the mockups to their portfolio reveals they were tasked to create a fresh new look for the internal website presumably sometime between 2010 and 2011 according to the placeholder content showcased. The designers described the Metro visual style as a strong influence in their work.
While most of the placeholder content is naturally out of date, the mockups do provide a sneak peek at the type of content that is shared including but not limited to "StudioCasts" which seems to be an internal video streaming and archives service and "Inside Track", an internal news publication.
With a monthly pageview count of 5.2 million hits, I'm sure Microsoft's 90,000 global employees will come to appreciate this redesign which at least looks rather appealing and should function just as well. At least according to the designers the feedback has been pretty positive.
Click through to the If/Then website for a couple more screenshots.