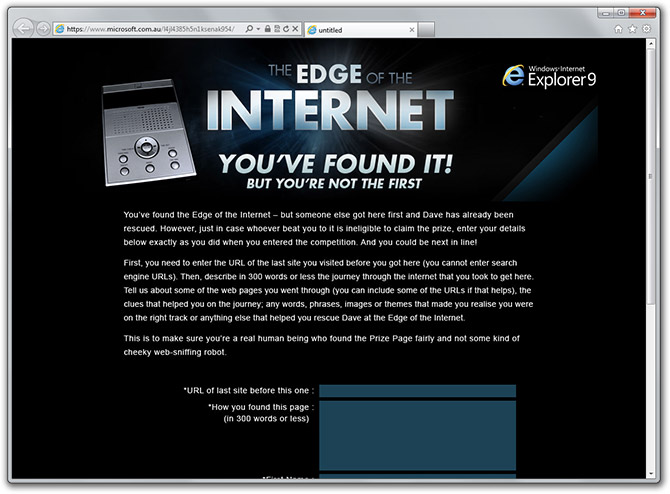 Microsoft Australia's "Edge of the Internet" promotion came to a sooner than expected end over the Christmas break as a user only identified as "Thomas from Victoria" deciphered the clues to find the secret website and collected the $20,000 cash prize. I can only imagine his holiday became even better.
Posted to the Windows Australia Facebook wall on the 28th of December 2011, it was verified the winner found the winning page with its cryptic URL of https://www.microsoft.com.au/l4jl4385h5n1ksenak954/ almost a week earlier at 22/12 on 12:52pm.
If the clues didn't make much sense to you, the organizers has indicated it will post a detailed description about the clues and how it translates to a breadcrumb trail of websites after the New Year. The list of websites include those about the evolution of the web, food and wine, interesting HTML5 sites, space exploration, and even diabolical atrocities of the web design.
Unfortunately for Microsoft Australia, this second iteration of the competition didn't nearly attract as much viral publicity or participation as the first "Ten grand is buried here", both of which was designed to drive awareness for new releases of Internet Explorer.
With only 556 registered participants this time round, competition was not nearly as fierce. Notably the Whirlpool thread for this promotion only collected 6 posts, compared to several thousands of posts the previous competition drew.
The only logical explanation is that Australians have become even more lazy. It's a good thing we still have Australium to outpace the world's economies.
Update: Microsoft Australia has posted the full step-by-step explanation of how the clues lead to the prize and confirms Thomas' entry was legitimate and valid.