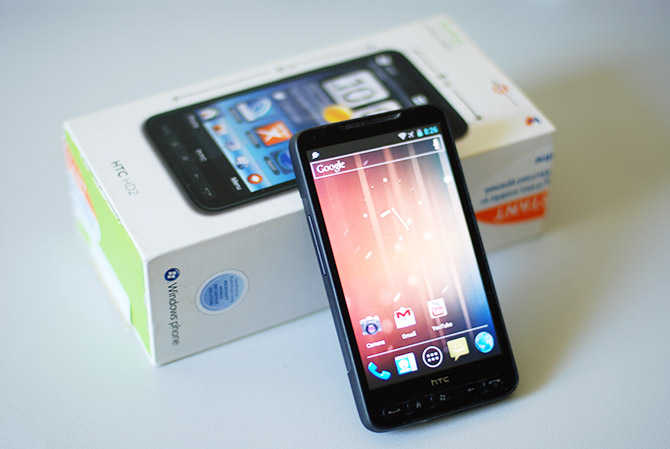 It's hard to believe a Windows Mobile 6.5 phone is not only alive and kicking more than two years after its release, but sports some of the latest mobile OS releases thanks to an enthusiastic software modding community who persistently breathes new life into a device at least two generations behind.
When it was released in late 2009, the HD2 was state-of-the-art hardware as one of the first smartphones to sport the then-new Qualcomm Snapdragon QSD8250 processor. The fact that many recent smartphones including the first-generation Windows Phone 7s still use the same processor is actually one of the main factors why this device is able to live such a plentiful life.
Although HTC did a noteworthy job with Sense UI customizations on top of Windows Mobile 6.5, Microsoft's best mobile offering at the time, modders had other plans.
After the MAGLDR bootloader was released by a modding group DFT, the floodgates literally flung open. Now not only could the HD2 boot Windows Mobile-based ROMs but also any Linux-based OS which includes but is not limited to Android.
As of today, the HTC HD2 forums on xda-developers are by far some of the most populated. With constant development of customized kernels and drivers for Android and Windows Phone 7, it's impressive what developers largely driven by donations have been able to reverse engineer.
As far as I know the HTC HD2 remains the only non-native phone that can run the latest versions of both Android Ice Cream Sandwich and Windows Phone Mango today with most practical functionality supported – cellular, WiFi, touch and sensors. And if you fancy a bit of nostalgia, there are still updated Windows Mobile 6.5 ROMs.
With the dual-core and GPU trend of Android devices I'm not sure the HD2 will be able keep up much longer. If anyone has one of these lying around still running WM6.5, it might be worth trying something new. I highly recommend the bleeding-edge "NexusHD2-IceCreamSandwich Beta8" ROM.