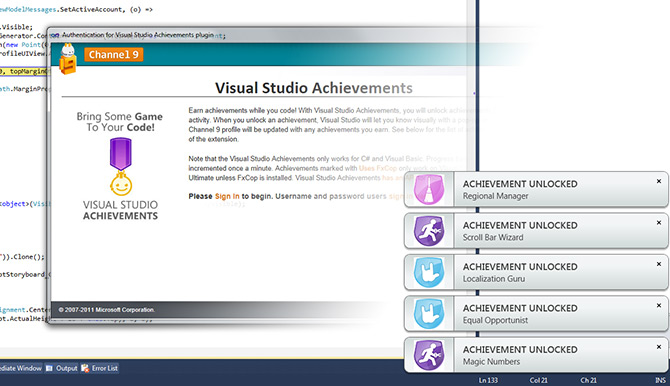 A couple of years ago I approached Rafael Rivera with an idea – bringing XBOX Live-style achievements to the Windows platform.
There could be achievements for Windows itself – learning keyboard shortcuts like CTRL+SHIFT+ESC for task manager or even BSOD misfortunes. It would have also extended third-party applications to easily integrate achievements for all sorts of scenarios – Photoshop, browsers and Messenger. Regrettably we never pursued it due to lack of resources.
More recently, a post on the developer blog "While True" raised a similar idea, "What if Visual Studio had Achievements?". This sparked a popular reddit thread which the powers at Microsoft's developer evangelism group Channel9 saw and decided to put words into action.
Today, the Visual Studio Achievements Beta is launched and the VS2010 extension is finally available for download from the Visual Studio Gallery.
With 32 achievements available today and more to come in the future, there are achievements that reward using Visual Studio features and also specific coding styles, some admittedly unfavorable (ex. "Write a single line of 300 characters long.") Nevertheless, it's all in good faith to make programming more fun.
And it works! As a programming novice, I don't know what half of these achievements meant but it's definitely encouraging me to explore some of the other features Visual Studio has to offer. Although it lacks the trademark XBOX achievement sound, any novelty badge is better than no badge.
As gamification is proving to be a popular technology trend for online services and communities such as StackOverflow and Foursquare, I'm sure this is only the beginning of the push into everyday software too.