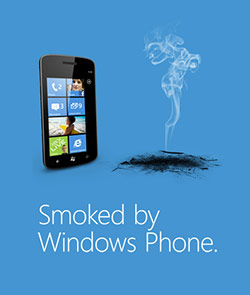 A somewhat unfortunate story unraveled today surrounding Microsoft's "Smoked by Windows Phone" challenge which started at the show floor of CES 2012 and has recently become a US-wide advertising campaign.
I Won The Windows Phone Challenge, But Lost "Just Because"

I headed down to the Santa Clara Microsoft Store this morning after hearing about the Windows Phone challenge last night. For those not familiar, anyone who completes a task faster than a Windows Phone on their own smart phone can win a $1000 Special Edition Laptop assuming they meet some standard terms and conditions. Those who "get smoked" by a Windows Phone, have the opportunity to trade in their existing device for Windows Phone.

…

I was quite excited to take the challenge, but left the Microsoft Store in distaste. I sure hope the purpose of this marketing ploy is to attract new customers by demonstrating the highlights of Windows Phone, not frustrating them instead.
By raising the stakes from $100 to $1000, Microsoft also raised expectations from a fun-spirited "party game" at a trade-show to a serious invitation for a fair and competitive competition. I think the idea was a lot of fun but I wouldn't say it was ever fair.
The problem is, it is set up more like a game of casino Poker and the house (Microsoft) always has the advantage of knowing what cards are on the table.
If you drew the right card by luck (a combination of scenario and which mobile OS/widgets/apps users have preloaded), you could technically beat them like Sahas did. However, the odds are highly stacked against players since Microsoft is only playing with a deck that is more advantageous to Windows Phones.
If the prize was only $100, I don't think people really cared. But when $1000 is on the table, valid complaints like Sahas Katta's are warranted. Even though Ben Rudolph of Microsoft has already offered a rematch, they should just offer the prize instead. After all, even casinos pay out, sometimes.
Update: And Ben delivers.
Hey @sahaskatta , @Microsoftstore & I want to make things right.So I've got a laptop & phone (& apology) for you. Email me!

— Ben Rudolph (@BenThePCGuy) March 26, 2012