Vodafone Australia's non-profit arm, the Vodafone Foundation, is hosting it's first ever hackathon in North Sydney from September 20-22 to get mobile developers coding for a good cause.
To get the blood pumping for developing mobile apps, Vodafone Australia has asked me to give away a Samsung Galaxy S III.
The Vodafone Foundations App Aid Charity Hackathon, supported by Samsung and Facebook is a 48-hour soft-drink-powered codefest where mobile app developers of 10 teams and tasked with designing and developing a prototype mobile app for a charity member matched on the day.
The winning app, selected by a panel of judges, will win $30,000 for the charity associated with the app. There's a further $10,000 for the second place app. That's a lot of sweet sweet karma if you ask me. But that's not all.
Since the event is supported by Samsung, there'll also be some sweet Samsung prize packs at the event awarded to the team with the most innovative app. Plus, charities will also have the discretion to ask teams to work commercially with them to bring apps to the market.
Developer registrations close in just under a week on the 10th of September, so sign up today. The event is open to all mobile platform developers so Windows Phone developers are more than welcome. More information about the event can be found on the Vodafone website.
Samsung Galaxy S III giveaway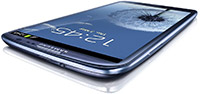 As for the Samsung Galaxy S III giveaway, from what I've heard, it's a sweet pretty Android phone. Simply leave a comment below for a chance to win. I'll randomly pick a winner on the 10th of September. (Only Australian residents are eligible to win.)
Update (10 Sep): Vodafone Australia announces Guy Kawasaki, high-profile venture capitalist former Apple fellow, is the guest judge for the App Aid hackathon.
"We are honoured to have Mr Kawasaki join us in Sydney for App Aid. As one of the most revered and influential innovators of our time, Mr Kawasaki brings with him incredible insight and experience that will be invaluable to the developers and charities participating in App Aid," said Demelza Farr, Head of the Vodafone Foundation.
Update 2: The winner of the Samsung Galaxy S III has been chosen. Congratulations to David K. of Melbourne.