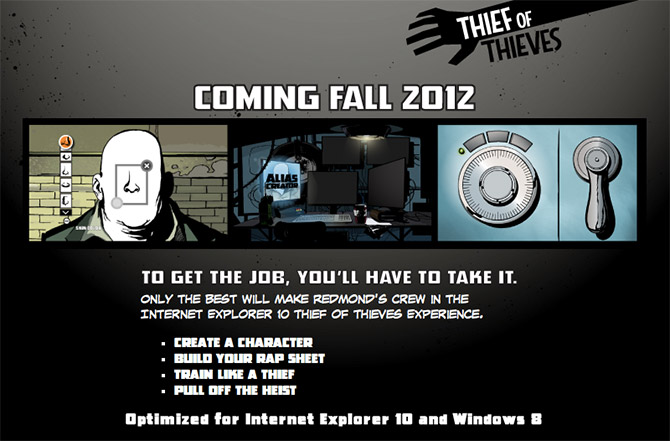 Microsoft's Internet Explorer team are teaming up with Skybound's "Thief of Thieves" comic book series for an online game promotion to create a virtual character, train as a thief and "pull off the virtual heist" with Internet Explorer 10 and Windows 8.
According to Wikipedia, the plot of the comic book circles around "Conrad Paulson, a highly-successful thief who quits the business and begins a new life stealing from other thieves".
From the illustrations on the teaser page, the game appears to feature a graphic-style inspired by comic books and contain interactive puzzle-based elements which may employ multi-touch HTML5 & Canvas functionality which is supported by both Internet Explorer 10 and Windows 8.
Internet Explorer is known to run several interactive and game campaigns throughout the year to promote the browser and this game, "coming Fall 2012" could tie-in with the general availability of Windows 8 next month on October 26. Keep an eye out.