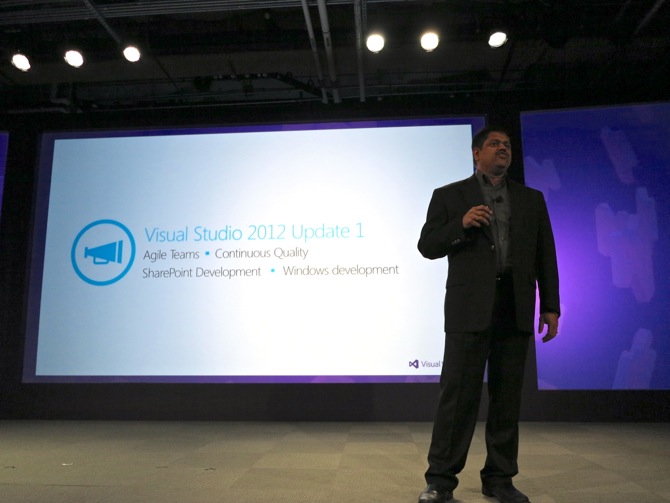 At the purple-everything Visual Studio 2012 launch event on Seattle's waterfront today, Corporate Vice President of Microsoft's Developer division Soma Somasegar announced the first update to the Visual Studio 2012 development suite coming before the end of the year.
In an interview with Jason Zander, CVP of Visual Studio, I learned a bit more about what's in the update and the CTP preview coming at the end of this month.
First and foremost, the update will bring forth a range of post-RTM bugfixes from the long backlog of changes and requests the team has been compiling and actioning from internal and external feedback from emails, UserVoice and Microsoft Connect.
To help Windows Store app developers, there will be improvements to memory profiling tools. This will be aimed to make it easier for developers of "Windows Store apps/WinRT apps" better analyze memory problems and hopefully manage leaks. This will be quite an important tool since Windows Store apps can have a long memory lifecycle with the suspend/resume state.
To improve compatibility, the update will also improve targeting to current and upcoming platforms like Windows Phone 8 and browsers which has since changed since Visual Studio 2012 went "gold" a couple of months ago.
Last but not least, the UI critics (myself included) might also welcome some minor user interface changes. It won't be any major revamps of the UI though. Expect only subtle things like adding color to more icons that didn't make the RTM release.
The Community Technology Preview to be released later this month will be "as close to done as possible" to make the feedback loop practical. The update will be available to Visual Studio 2012 Professional and above.
For Express users, there may be updates where applicable but there may be different update cycles for targeted environments such as Windows Phone which will align with their SDK availability, or unavailability.