After learning how it actually works behind the scenes at BUILD, last weekend I got to spend some quality time with Xbox SmartGlass from the perspective of a normal person, a Xbox gamer.
My eager interest in SmartGlass is fuelled by a partial need and desire to do more with the big TV screen. After recently purchasing a Samsung Smart TV with built-in WiFi, DLNA and HTML5 apps and even a web browser, my expectation for what a TV can and should do raised dramatically.
I had set up the Xbox SmartGlass app on a Windows 8 slate, the iPhone 5 and the HTC 8X Windows Phone. It's quite a straight-forward process on each device but the slate was definitely the favourite due to the size and screen real estate.
During the course of an evening, I played with the native Xbox remote feature, the Xbox Internet Explorer app and integration into two AAA Xbox games. Here's some thoughts on how well they work.
Xbox Remote
Xbox Remote is the most generic feature of SmartGlass, a feature that has been carried through from the previous Xbox Companion mobile app with some improvements. As I would compare it to a universal remote, this is a convenience feature rather than a replacement for a Xbox controller.
Although it's a practical alternative when a controller is not within easy reach, sliding on the large touch canvas to navigate between items and menus is a bit awkward. Slide too little and you don't get anywhere – slide too much an it navigates between menus rather than individual items. Tapping, which presses "A" is also prone to misclicks if you don't do the slide gesture quick enough.
The on-screen keyboard feature is where the remote feature steps into a league of its own. Naturally a keyboard, even touch, is far better to use than any controller input. The simple things like being able to type a full search term into Xbox Bing is such a good experience. Unfortunately it does not work with the YouTube app search box.
Internet Explorer
Internet Explorer is a new app introduced in the last Xbox Dashboard update. Even though there's no HTML5 video/Flash video I couldn't get HTML5 video to work on youtube.com, it's still a very capable browser for the large screen and image-centric sites like reddit.com.
Using SmartGlass with Internet Explorer is where the "second-screen extension" aspect of the platform shows off its prowess. Navigating, panning and zooming are all practically fluid and responsive on the tablet considering there's only a WiFi connection between the device and the console.
Personally I hope the next version of Internet Explorer SmartGlass also has a view of the browser page on the device so that they could move away from the cursor-based navigation to a direct touch manipulation method.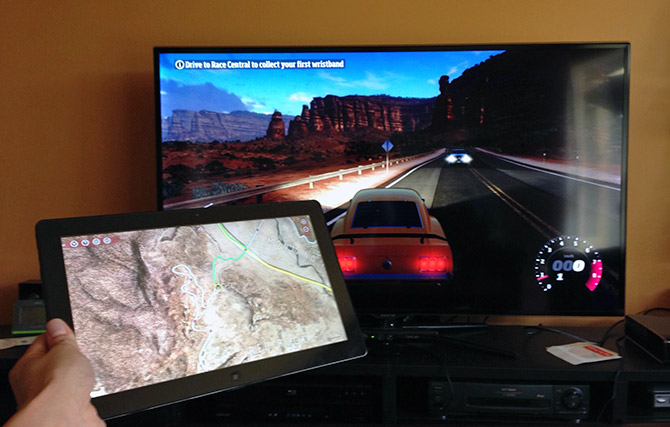 Forza Horizon
Forza Horizon is one of the two game "launch titles" for Xbox SmartGlass. As a racing game, the game implements a full-screen road map view on SmartGlass encompassing the entire game world (a region of Colorado). The current driving route is highlighted and users are also suppose to set new routes by tapping (however I couldn't get that to work).
This SmartGlass implementation was a little disappointing because of the poor execution. The map's zoom range is quite limited and the cartography design makes it quite hard to distinguish the road and the terrain. There is also no rotation meaning it was quite hard to read when the car is zooming at 140mph.
What I envisioned for a racing game SmartGlass implementation is a live list of the race positions, a GPS-like direction arrow and distance countdown and map markers of other cars in the race – none of which Forza Horizon has.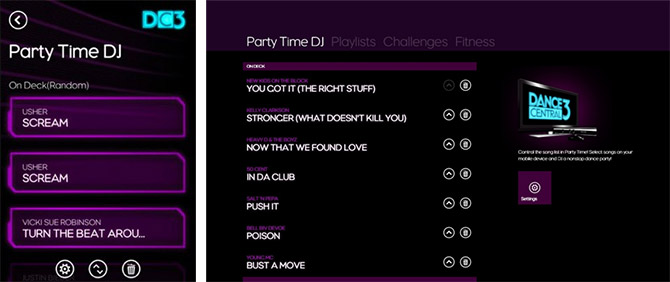 Dance Central 3
Last but not least, Dance Central 3 is the other Xbox SmartGlass launch title that was promoted at the E3 press conference this year.
Like a modern karaoke machine, Dance Central SmartGlass clients (up to 4 users on 4 devices) can view songs from the library and add them to a "party mode" queue while other players are currently dancing. Other functionality includes viewing a list of achievements and rewards.
Even though this implementation is also quite limited in scope, the value delivered by this functionality is quite crucial to the gameplay mechanics. In previous Dance Central games, it was quite common for the inactive players to want to queue up the next song but couldn't without setting up a playlist ahead of time. Now SmartGlass makes this possible without disrupting the pacing of the game.
TV, movies, future
As SmartGlass expands its line-up of supported XBOX applications, movies, TV shows and games, I'm sure the variety and depth of integration will continue to improve as well. Technically it's a worthy alternative to Apple AirPlay, but current implementations in some apps leaves a lot of room for improvement.