Did you know Huawei ranks third-place in global smartphone shipments this year? I didn't. The company has been expanding its presence in the consumer smartphone market for a few years now and it looks like the bet is beginning to pay off.
The company's latest flagship is the Huawei Ascend Mate7. Don't let the name fool you, it's neither made-for-Australia or seven-inches big. What it is, is a massive 6″ Android phone with massive specs to match. Octo-core processor, 3GB RAM, 32GB onboard storage, fingerprint sensor, Category 6 LTE, IPS-NEO display, 13MP camera, dual-SIM support and of course, it's gold.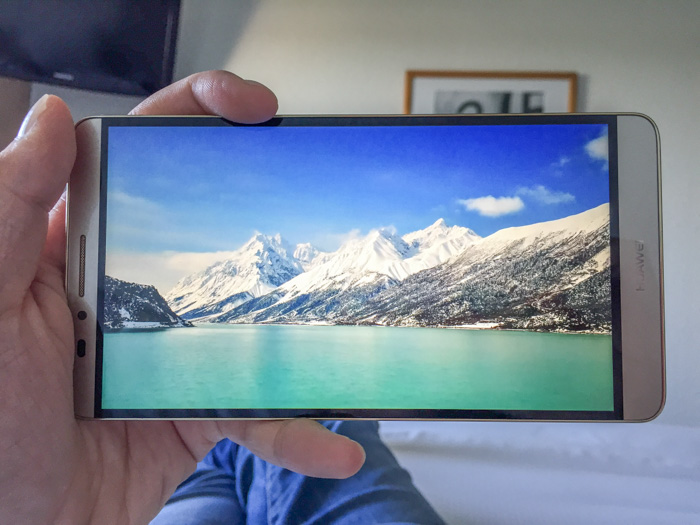 Although I'm somewhat biased against phablets with my small hands, I must admit this 1080p screen is absolutely gorgeous for videos and browsing. It features a relatively new display panel technology called IPS-NEO which improves upon IPS with darker blacks, especially when viewed at an angle.
Impressively, the 6-inch display – half an inch bigger than the iPhone 6 Plus – sits in a phone almost the same size as the iPhone 6 Plus thanks to ultra-thin bezels around all sides of the screen.
One of the reasons the bezel can be made so thin is because the fingerprint sensor is placed on the backside of the phone, which sounds odd at first but actually works pretty well.
The index finger sits comfortably over the sensor when gripping the phone in either hand, and a simple tap will power-on and unlock the phone in one go (unlike iPhone's Touch ID which requires a press and scan from standby). The recognition speed is near instant and accuracy is reasonable (I got a few recognition fails).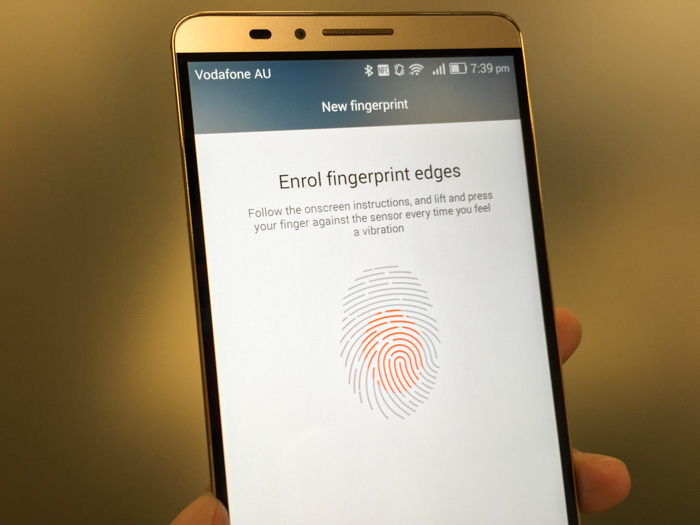 Similar to the iPhone, it allows 5 different fingers to be registered. Going above the iPhone, it also allows using different fingerprints to access (or prevent access) to different storage files and apps. Although this feature could be useful for a shared tablet, this is a bit of a gimmick for a phone.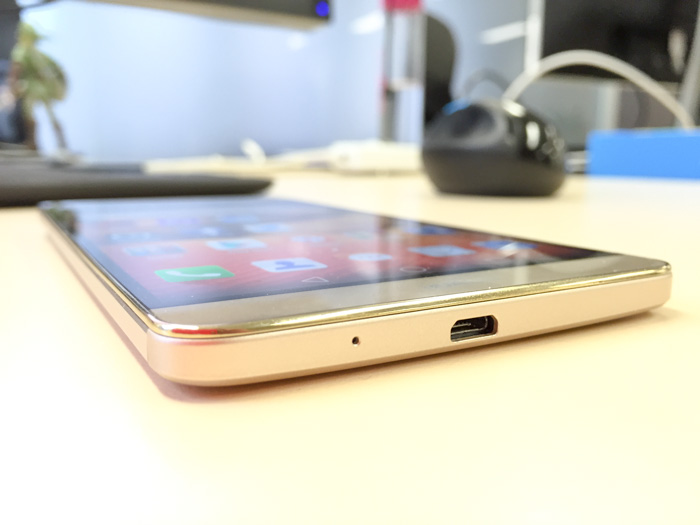 An undeniable advantage of big phones is big battery life and the Mate7 sets the bar extremely high with its 4100mAh battery (compared to Galaxy Note 4's 3220mAh and iPhone 6 Plus's 2915mAh). You know it's big because even charging it takes a notably long time.
Huawei boasts it provides two days of regular usage on a single charge, utilizing additional smart power saving features such as using only 4 low-power CPU cores for running less intensive applications. However since I always charge my phone at night, I'm only able to confirm it completed a whole day on 4G-only still with juice left.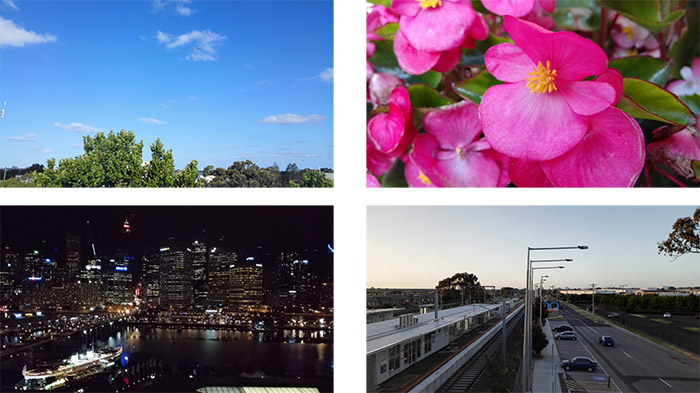 The 13MP camera produces respectable photos in most situations. The shutter is extremely responsive, even boasting a quick-snap feature to take a photo as quickly as under a second from standby by tapping twice on the fingerprint sensor. The camera software also features a Lytro-like refocus feature allowing you to edit the focus point after the shot, a bit of a fun gimmick.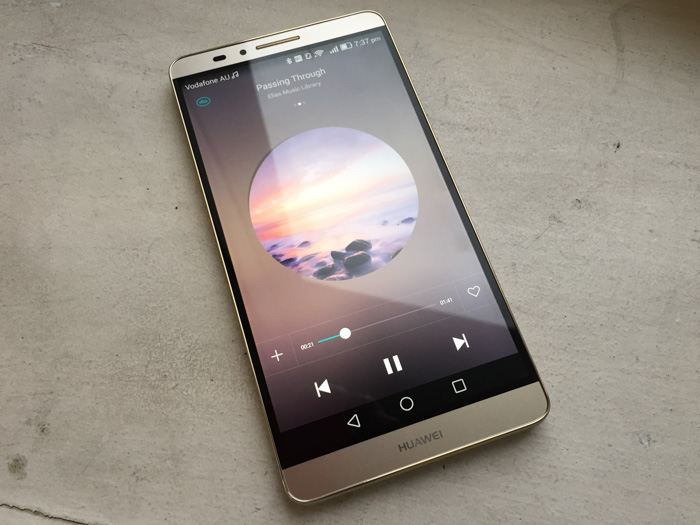 In the past I've had a few hit and misses with the firmware on older Huawei phones, but thankfully there's no issues with the performance and responsiveness of Android Kitkat 4.4.2 on this phone.
The latest version of Huawei's custom Android skin, EMUI 3.0, is one of the more lighter OEM customizations and has some elements of Google Material Design even without Lollipop (e.g. soft keys).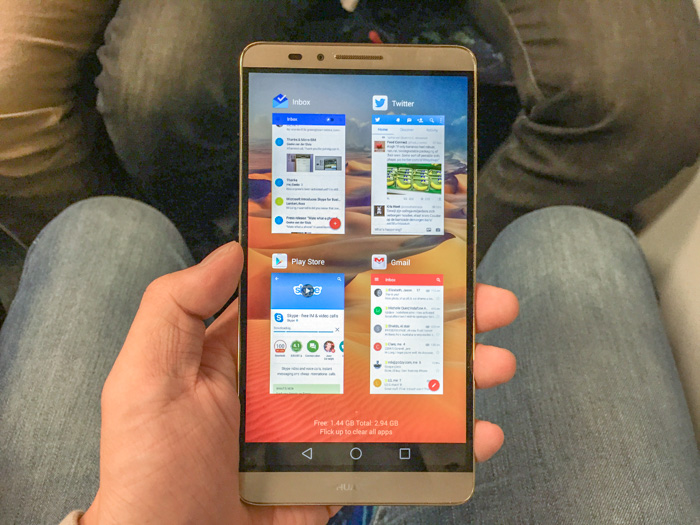 The built-in stock apps, app switcher, notifications center are all quite elegant and functional. If I were to pick just one issue with the customisation, it would be the dynamically generated home-screen app icon backgrounds which persists even if you switch to a different home launcher app (such as Google's).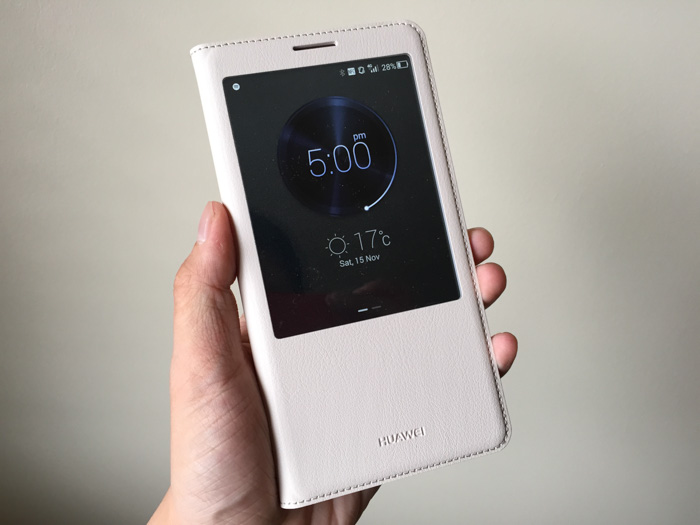 Available now in Australia for $699, the Huawei Ascend Mate7 seems to be a great value-alternative to other premium phablets with a gorgeous screen, state-of-the-art specs, elegant design and unintrusive OEM software. Although I can't see myself using a phone of this size day-to-day, it demonstrates at least Huawei's got the design and technical know-how to put up a good fight with the giants of Samsung and Apple.
Disclosure: Huawei provided the phone and travel to the launch event at no cost.